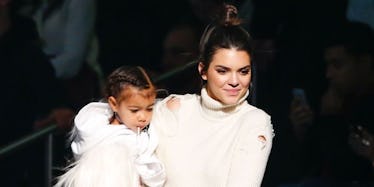 Kendall Jenner's Adorable Pic Proves North West Is Most Relatable Kardashian
REX/Shutterstock
Kendall Jenner is proving herself to be an inspirational aunt.
The 21-year-old model took to Instagram to post an adorable photo of North West that proves she is the most relatable of all the Kardashians.
Kendall also captioned the photo of her niece, writing,
me
Ditto, Kendall. This is me at 4 pm everyday. The thing giving me an embrace? My dearest friend in the world: sweet, sweet Vodka.
If you need any further proof we can all identify with North so effing much, just take a look at these pictures of her.
This is all of us when our best friend sends us a meme in the middle of our work day...
And we have to explain to our co-workers why we're crying before the big meeting.
North's reaction to meeting former President Obama would be our reaction, too. NEVER LET GO, NORTH.
Cue "My Heart Will Go On."
North is all of us helping our best friend up after they've pre-gamed a little too hard.
"Rise, my friend."
North proves there is no wrong time or place to take a nap.
"Oh, it's 10:30 am? Let me find that snooze button real fast."
North's face is all of our faces when our friends are complaining about their relationships and we're all single AF.
"Oh, really? That sounds rough. No, seriously, go on."
Meanwhile, this is us when we're in the back seat of an Uber ride and the driver starts asking us about our life story.
"I DIDN'T COME HERE TO MAKE FRIENDS."
Kendall is on to something.
All in all, North's expressions and deadpans are all super relatable reactions. I'm calling it now: North is going to be an incredible actor and probably win a few Academy Awards.
In the meantime, check out the Oscar nominations that came out on Tuesday.
BTW, which North photo encapsulates your current mood right now?