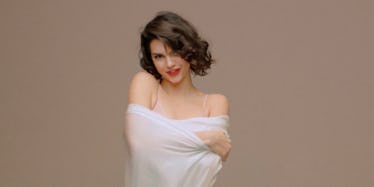 Kendall Jenner Channels Marilyn Monroe In Lacy Lingerie For Love Magazine Video
Love Magazine
Kendall Jenner is throwing it back to fashion's original it girl in a flirty new video for Love magazine.
The clip features Jenner dancing around in lacy lingerie and diamond necklaces as she mouths along to some of Marilyn Monroe's most famous quotes.
Between shots of Jenner smiling and blowing kisses in a polka-dotted swimsuit and black hat, she also lip syncs to a few of Monroe's popular standards, including "Diamonds Are a Girl's Best Friend" and "I Wanna Be Loved by You."
Check out the whimsical video below.
This isn't the first time Kendall has shown her love for Love magazine, which is well known for creating scintillating and unique videos with some of the biggest names in the fashion industry.
Just a few months ago, Kendall took part in Love's annual Advent calendar, posing in black lingerie and thigh-high boots.
And it's also not the first time a member of the Kardashian-Jenner family has paid tribute to Marilyn Monroe.
For years, people have compared Kendall's big sister Kim Kardashian to Marilyn Monroe, pointing out the reality star's innate ability to capture public interest seemingly without even trying.
But really, that can be said of every member of Kim's famous family, all of whom have become tabloid fixtures and household names just because they agreed to have their lives filmed a decade ago.
When Kim visited the Snapchat headquarters last year, the photo and video app surprised her by designing a custom filter just for her. Fittingly, the filter popped a blonde wig on Kim's head and gave her red lips and a beauty mark, transforming her into Marilyn Monroe.
Like Marilyn, Kim has also dipped her toe into acting roles and singing, but the real reason she remains so famous is she knows exactly how to keep the media and public interested in everything she does.
On Christmas, momager Kris Jenner gifted her daughters with original prints of some of Marilyn Monroe's iconic photo shoots. Clearly, the influence Monroe had on the Kardashians is not lost on any of them.
I think Kendall Jenner definitely did Ms. Monroe proud in her video tribute!