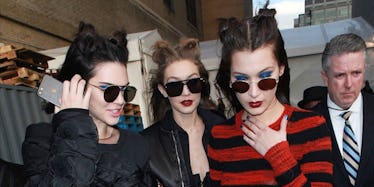 Kendall Jenner, Bella And Gigi Hadid Are Bringing Back A Classic '90s Trend
REX/Shutterstock
My weird-ass sister Camille has been trying to make space buns happen for, like, six months now and I'm begrudgingly writing this to tell you she's about to get her goddamn wish.
No one is more upset than me. I don't even hate space buns, I just hate the idea of Camille getting what she wants. She's too smug and she needs to be stopped.
Gigi Hadid, Bella Hadid and Kendall Jenner are not in my corner on this one, and when Camille's ego explodes after going completely unchecked for too long, we'll partially have these three to blame.
The models looked amazing to an almost repulsive extent while walking the runway for Anna Sui.
Their buns, courtesy of hairstylist Garren, were sculpted using products from R+Co, Refinery29 reports.
If Camille sees this shit, none of us will be able to enjoy the scraps of serenity that barely exist in our daily lives as it currently is. She is going to keep innovating in the most self-satisfied, unbearably vocal ways possible.
"I told you so" does not begin to cover the irritating clichés the rest of the world and I will have to listen to if Camille gets wind of this trend catching on.
What's more? I'll tell you what's more. Camille told me she got her inspiration for these loaf-y little bun shits on an Instagram of art from the '40s.
LET ME FINISH.
Garren himself admitted,
The girls had little twirls in the front, which would be rolled in the '40s, but we wanted it to look very today.
Cool, cool, great. So this is essentially an updated version of something from when? Oh, the 1940s? Amazing. Phenomenal. Really spectacular.
When we're all choking on Camille's superiority fumes, I'll try to remember the smooth ringlets of fashion's past and distract myself from the horror.
You've all failed me -- each and every one of you -- which is fine. I'll get over it. I'll learn to forgive you.
The real issue here is whether you'll be able to forgive yourselves.
Citations: Kendall Jenner's Latest Hairstyle Is About To Blow Up Your Instagram Feed (Refinery29)