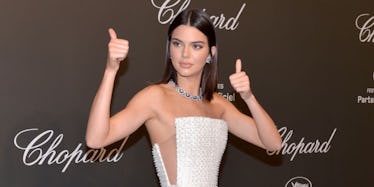 We Have Many Questions About Kendall Jenner's Sexy Fourth Of July Look
Pascal Le Segretain/Getty Images for Chopard
It's the Fourth of July and you know what that means, KENDALL JENNER IS IN HER UNDERWEAR PEOPLE.
I don't know... that could also be every day as a supermodel, but she is especially in her underwear today.
The second-to-youngest Jenner/Kardashian sister has been blowing up the fashion world for some time now, and recently her Instagram feed has taken a serious turn with more "mature" content.
As of late, most of Jenner's posts are a series of bathing suit and underwear photos, shots from the red carpet and straight up alien-face Snapchat videos – and today, America, is no exception.
This morning, Jenner posted a black-and-white photo of herself in bikini briefs and a sheer bra, smoking a cigarette and leaning on a car.
The photo is reminiscent of a 50's pin-up poster, but still leaves me asking the question... "Wait a minute, are we trying to make smoking cool again?"
*~*~*Quick little reminder for everyone who worships the ground the Kardashians walk on, smoking still gives you cancer.*~*~*
Cool, moving on.
Jenner also captioned the photo with a simple American flag emoji, which for some reason is hilarious to me. Her sister Khloé seems to agree.
In fact, Khloé commented with the sarcastic joke, "So patriotic."
Our thoughts exactly, Ko-Ko.
Kendall isn't the only sister rocking some serious skin this Independence Day.
Oldest sis Kourtney was spotted sporting epic sideboob on the French Riviera yesterday with boyfriend Younes Bendjima, and while we do know Kim Kardashian had a comfort food BBQ, we can't confirm her legs, stomach, cleavage, ribs, lower back or collar bones were showing. (My bet is yes, for whatever it's worth.)
All of this to say... Kendall is basically my twin this Fourth of July. I just happen to be the twin sister pounding hot dogs in my Dad's fishing T-shirt and shot gunning a PBR. Kenny happens to be the twin sister who is also a supermodel.
You guys get how twins work.