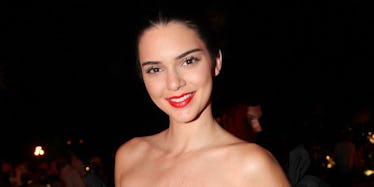 Kendall Jenner Says Tyler, The Creator Is Just A Friend Despite Dating Rumors
REX/Shutterstock
Kendall Jenner has never been less relatable than in this video for Vogue.
I'm a big Kendall fan. She's a hard worker, clearly devoted to modeling and in a family full of walking controversies, she's easily the least "Page Six" one of them.
Occasionally, she'll take a racy Instagram pic or be friends with someone she maybe should steer clear of, but for the most part, she's squeaky clean, and I appreciate that. In a way, it made her the one many of us could identify with the most.
That's no longer the case after watching this "73 Questions" video with her.
As it turns out, Kendall is BEYOND basic with moments of bizarrely casual extravagance.
Here are some highlights.
Spirit animal: Tupac (because she's basic).
Most expensive purchase: Vintage car (because she's extravagant).
Wants people to focus more on: her ass (because she's basic).
Favorite current sister: Khloé Kardashian (because she's extravagant).
Favorite movie: "The Notebook" (because she's basic).
Craziest thing she's ever done with Gigi: the time she pulled an all-nighter at Cannes and ended up in Monaco (because she's… WTF THAT'S THE MOST EXTRAVAGANT THING OF ALL TIME).
Three words that describe her: weirdo, motivated, jetlagged (because she's basic).
Cameo in video: Kris Jenner doing hardcore construction on her room.
What she's doing after the interview: "Going to the gym, this body doesn't do it itself."
Longtime bestie Tyler, The Creator gets a mention in the video interview, which was released right around the same time the Twitterverse was convinced the two were dating.
The pair were caught leaving a Cheesecake Factory together after dinner with Hailey Baldwin on Saturday night, an obvious sign they are dating, because the world as a whole is a middle school.
Kenny played it off, though.
As did Tyler.
Crisis averted, they're not dating. Now if you'll excuse Tyler, he has to go back to burning a CD of music he downloaded from LimeWire for Kendall.
Citations: 73 Questions for Kendall Jenner, From Her Favorite Sister to Her Future in TV (Vogue)