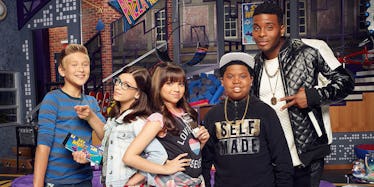 OMFG: Kel Mitchell Is About To Make A Glorious Return To Nickelodeon
Nickelodeon
It's every 90s kid's dream come true: Kel Mitchell is back.
Sadly, the beloved jokester isn't returning for a reboot of "Kenan & Kel," but he will be returning to Nickelodeon with a starring role on a new series called "Game Shakers."
The series, according to Entertainment Weekly, will focus on a pair of seventh-grade girls who start a gaming company in Brooklyn called, as the name suggests, Game Shakers.
Mitchell will play a rapper named Double G who joins the girls' company after first threatening to sue them for copyright infringement for using a song of his without permission.
The role will play to Mitchell's comedic strengths, but it'll also reveal a side of the actor we've never seen before.
Mitchell told Entertainment Weekly,
I get to play a hip-hop mogul who is the comedic version of artists like Kanye, Diddy, Eminem and 50 Cent. Double G is a rapper/singer/dancer/entrepreneur/investor which gives us great story lines on the show. I love playing such a wild character, because you will see some great physical comedy, but he also has heart; he is a single dad that loves his son, Triple G, played by the very talented Benjamin 'Lil P-Nut' Flores, Jr. There are so many layers to this character that it is one of those dream-come-true roles.
The show will be directed by Dan Schneider, and it is set to debut in September.
Pay those cable bills, kiddies, 'cause this is one you'll want to see.
Citations: Kel Mitchell Returns To Nickelodeon To Star In Game Shakers (Entertainment Weekly)