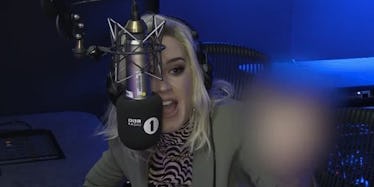 Video Shows Katy Perry Flipping Off Ed Sheeran For Interrupting Her Interview
YouTube
A few weeks back at the 2017 Grammys, Katy Perry and Ed Sheeran killed it with their individual performances.
Sheeran, who is known for being a one-man band, entertained the Staples Center crowd by performing one of his new singles, "Shape of You."
Not to be outdone, though, Katy Perry, with the help of some very talented dancers and one Skip Marley, performed her new jam, "Chained to the Rhythm."
Awesome, right?
Fast forward to Katy Perry's recent appearance on BBC Radio 1's "Breakfast Show," where she spoke with Nick Grimshaw (Grimmy) about her "Chained to the Rhythm" track and Wednesday night's 2017 Brit Awards.
As you're about to see in the video below, things appeared to be going well, when all of the sudden Grimmy stopped the interview because he spotted singer Ed Sheeran lurking just outside the studio where Katy Perry was being interviewed.
In the clip above, Grimmy said,
Hey, Ed Sheeran's here! Look!
In response to everyone's favorite redhead crashing her interview, Katy Perry enthusiastically said,
Oh, babes! Hi, babes! Thanks, babes, for keeping me off the number one spot! Thanks!
She continued, sarcastically,
Oh, you're so approachable. Oh, you're everybody's best friend. Oh, great.
Toward the end of Perry's rant, you can see her actually flip off Ed Sheeran!
Like, homegirl whipped out the middle finger so quick she never even gave Sheeran a chance to get out of the way.
After that exchange, though, Ed Sheeran entered the studio, embraced Katy Perry with a hug and immediately joined the interview to launch into the story of how he and KP first met.
Apparently, they met after the 26-year-old Sheeran played a gig in Toronto. According to Sheeran, he was so sweaty after his performance, Katy Perry would not hug him!
Can you just imagine how soaking wet this dude had to have been for Perry to be like, "Nah, I'm good"?
It appears that Toronto meeting occurred when Sheeran was still, well, coming up in the game, so following Sheeran's story, Katy Perry said,
Now that you're Ed Sheeran, it's like, put your ballsack on me.
I highly recommend you watch the above clip in full to hear Ed Sheeran and Katy Perry share more gross anecdotes!
Citations: Ed Sheeran Crashes Katy Perry's Interview — And The Chained To The Rhythm Singer Flips Him Off! (Perez Hilton)