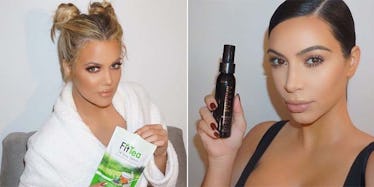 The Kardashians Are In Hot Water Over Their Misleading Instagram Posts
Instagram
Tisk, tisk, motherfreaking tisk. What would Essena O'Neill say about this?
Probably a lot, honestly, and none of us have time to watch a 19-minute vlog, so I'll lay out the drama for you here.
Turns out all those obviously sponsored posts on the Kardashian/Jenner sisters' Instagram accounts — you know the ones, where they pose with a jar in one hand and some kind of supplement hanging precariously out of their mouths the way zero percent of humans eat anything? — may be getting them in some serious trouble.
Nonprofit organization Truth in Advertising claims the sisters failed to consistently identify these posts as ads, even when the reality stars were being paid to pose with products, according to Refinery29.
In a letter Page Six reports was sent to Mama Kris Jenner herself, Truth in Advertising accused the family of "[engaging] in deceptive marketing campaigns."
Upon reviewing the social media profiles of each of the sisters, TIA wrote it had "found a plethora of posts that do not clearly or conspicuously disclose their relationships with the companies being promoted in the posts as is required by federal law."
The Kardashian/Jenner ladies were given until August 24 to rectify the situation, presumably by either removing the posts not properly labeled as ads or editing their descriptions. In the event the sisters do not comply, the organization threatened to go to the Federal Trade Commission.
In the meantime, please enjoy a modest buttload of Fit Tea posts…
Citations: Why The Kardashians Could Be In Legal Trouble (Refinery29)