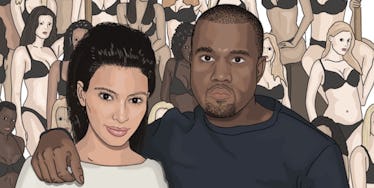 Kanye West Valentine's Day Cards Are The Best Way To Show Your Love (Photos)
Valentine's Day is right around the corner. That means it's time to tell that special someone how you really feel.
But sometimes, coming up with the right words is hard. Sometimes, your best bet is to reappropriate the words of one of our most treasured, modern poets.
I'm, of course, referring to Kanye West. Kanye might not be the most respectable guy in the world, but he sure is a romantic, in his own unique way.
So, if you're having trouble expressing yourself this Valentine's Day, just print out one of these Kanye Valentine's Day cards, courtesy of Complex, and let the object of your affection know how you truly feel.
Kanye is a girl's best friend.
Focus on what's most important.
It's important to be straightforward with your lover.
Role-playing can be a fun way to spice things up.
Valentine's Day isn't always a happy occasion.
Everyone deserves love.
Puns are fun!
Self-love is true love.
Puppies make great V-Day gifts.
Maybe one isn't the loneliest number.
Citations: Kanye West Valentines Day Cards to Keep Your Love Locked Down (Complex)