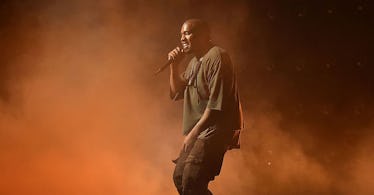 Kanye West Will Reportedly Go Back On Tour Soon, Here's What We Know
Kevin Winter/Getty Images for iHeartMedia
Hold onto your Pablo sweatshirts, fam, Yeezy is coming back. TMZ reports Kanye West has a new tour in the works and fans can expect shows to kick off in 2018.
After taking some pretty necessary time off, a source revealed to TMZ that Live Nation, which produced Yeezy's 2016 Saint Pablo Tour, has been in touch with Kanye West and is apparently "ready to jump as soon as he gives the green light."
Additional sources claim West is feeling stronger and better than ever, noting he appears to be more focused, present, and on the mend after his hospitalization in 2016.
In the whirlwind weeks following wife Kim Kardashian's Paris robbery, Kanye West allegedly was hospitalized due to exhaustion and what others referred to as a "mental breakdown." Friends of his said the rapper was not sleeping, and would sometimes stay awake for 48 hours at a time.
The situation was serious enough for Kim Kardashian to cancel her appearance at the Angel Ball in NYC to honor her late father, and fly back to LA to be with her husband.
Now, things are looking up and all signs are pointing to a new tour.
TMZ is also reporting that whatever Ye comes up with, we should not expect it to resemble last year's tour. Allegedly, West is looking to improve or change his iconic floating stage and is likely going to add even more special effects.
Additionally, Kanye West reportedly took a retreat to Wyoming in order to work on his new album over the past few months, and is purposefully avoiding deadlines or official statements to avoid any stress that comes with it.
For now, we know the rough goal is to hit the road in 2018, and know whatever Yeezy is cooking up in his crazy music kitchen is sure to bring the roof (or floating stage) down.