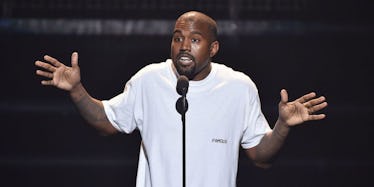 Kanye West Is Suing This Company For $10 Million Over His Canceled Saint Pablo Tour
MTV
It looks like lawsuits are a family affair for the Kardashian/West clan. Following the news that Kim Kardashian is being sued for her use of LuMee cases, we've now learned that Kanye West is suing his tour's insurance company over his canceled his Saint Pablo Tour in November of 2016. Elite Daily reached out to West's team for comment, but did not hear back by time of publication.
The tour was canceled for mental health reasons on West's end, so he feels the insurance company, Lloyd's of London, should have paid out his claims, according to Cosmo. An alleged statement obtained by Hollywood Reporter details West's side of the $10 million lawsuit. It says,
Nor have they [Lloyd's] provided anything approaching a coherent explanation about why they have not paid, or any indication if they will ever pay or even make a coverage decision, implying that Kanye's use of marijuana may provide them with a basis to deny the claim and retain the hundreds of thousands of dollars in insurance premiums paid by Very Good [Touring, Inc., Kanye's company].
West had suffered from a "psychotic breakdown" around Thanksgiving 2016, causing the remainder of the Saint Pablo Tour to be canceled. He was temporarily hospitalized for the breakdown, and fans came out in droves to support him during the tough time. All of the fans who bought tickets to the canceled concerts also received full refunds. The Kim Kardashian robbery in Paris happened just one month before in October 2016.
West claims he and Very Good Touring, Inc. (his touring company) paid "hundreds of thousands of dollars in insurance premiums" and that his insurers are looking "for some contrived excuse not to pay."
The statement obtained by Hollywood Reporter also says,
Almost immediately after the claim was submitted, Defendants selected legal counsel to oversee the adjustment of the claim, instead of the more normal approach of retaining a non-lawyer insurance adjuster. Immediately turning to legal counsel made it clear that Defendants' goal was to hunt for any ostensible excuse, no matter how fanciful, to deny coverage or to maneuver themselves into a position of trying to negotiate a discount on the loss payment.
This basically means West and his team feel the insurance company started looking for reasons not to pay his claims the second he filed them, though there's no confirmation of that. We'll just have to wait and see how this lawsuit plays out.
In the meantime, Kim Kardashian is being sued for $100 million by Snap Light because the company and its founder, Hooshmand Harooni, says the LuMee phone case brand essentially copied Harooni's allegedly patented work when it created its phone cases with built-in selfie lights. Kardashian is being sued because Harooni claims she gets a cut of LuMee's profits since she does so much promotional work for the company.
It sounds like a complicated time to be a Kardashian/West.