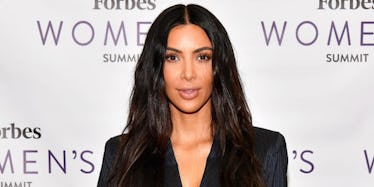 Kim Kardashian's Company Is Being Sued For $100 Million By Snap Light, Reports Say
Dia Dipasupil/Getty Images
Remember that phone case basically all of the Kardashians use that has a built-in selfie light? Well, Kim Kardashian's company is being sued by Snap Light for her use of that very same case. According to reports, Kardashian's company, Kimsaprincess, Inc., is being sued by Snap Light for $100 million, citing that her promotional use of the LuMee phone case brand caused Snap Light to lose a lot in profits. Elite Daily reached out to Kardashian's team for comment, but did not hear back by time of publication.
Inventor Hooshmand Harooni says he created and got a patent for an "integrated lighting accessory and case for a mobile phone device" back in 2013, and eventually created a company around the product called Snap Light. Harooni says LuMee essentially copied his work and has seen massive profits due to Kardashian's promotion of the product. 
A representative for the Kardashians said in a statement to TMZ on Monday, July 31, "The patent lawsuit filed by Snap Light has no merit and is just another attempted shakedown. Kim has done absolutely nothing wrong." Kardashian herself hasn't commented on the lawsuit.
Kardashian has been using LuMee cases for years. She has even taken selfies with Hillary Clinton using the case, and LuMee often posts pictures of Kardashian using its products.
LuMee is the phone case almost all of the Kardashians use. Khloé Kardashian has been seen using the case, and it's one of the main reasons all of their selfies look perpetually amazing.
Since Kardashian's selfies are legendary, it's no surprise a phone case brand with a built-in selfie light would want her promoting its products. Harooni claims Kardashian gets a cut of LuMee's profits and that's why he is suing her, but there's no confirmation that Kardashian actually profits off LuMee's sales.
This comes shortly after a lawsuit against Kardashian's KKW Beauty was filed by Kirsten Kjær Weis, a Danish makeup artist with her own makeup line —Kjær Weis — who says Kardashian basically stole her initials and it's negatively affecting her company. According to TMZ, sources close to KKW Beauty said Kardashian spoke with several trademark attorneys to make sure there weren't any violations with her beauty line's name.
But let's not forget the most important company name here: Kimsaprincess, Inc. This is real.