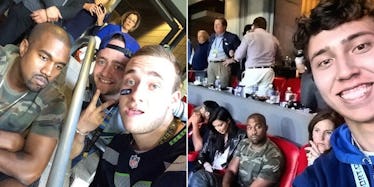 Kayne Was Not About Taking Selfies At The Super Bowl Last Night (Photos)
Twitter
Kanye West attended the Super Bowl last night but didn't seem very happy to be there.
At least, he didn't seem too thrilled based on a number of selfies fans took with the rapper.
A bunch of photos of Kanye were snapped and Kanye is mean mugging and looking generally unpleased with his situation in every single one. I don't know what this guy is so moody about, but I guess it's some kind of statement.
Seriously though, just smile, Kanye. You're at the Super Bowl. Your life is amazing. Enjoy it, you grouch.
Here's Kanye not smiling with some fans:
Here's Kanye not smiling before the game:
Here's Kanye looking surprised:
RT @MissInfoTV: Kanye again. #NotSmiling #SuperBowl #SB49 pic.twitter.com/Jn4pC6kYt0 — Missinfo (@Missinfo) February 2, 2015
And here's Kanye not smiling with Kim:
Kim and Kayne at Super Bowl XLVI @KimKardashian @kanyewest pic.twitter.com/30BqkLguQn — Kardashian/Jenners (@jennersilove) February 2, 2015
Citations: Kanye West is trying to watch the Super Bowl (USA Today)