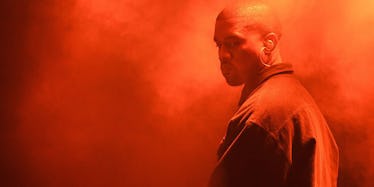 Kanye West Was 'Brought To Tears' At His Concert Because Of A Fan
REX?Shutterstock
At the end of the day, Kanye loves his fans as much as Kanye loves Kanye.
Kanye West is a big softie. I know he doesn't give off that energy or even smile in public at all, but at the end of the day, it's easy to see underneath his massive complex there is a normal dude with a big heart who loves what he does.
Kanye's love of his fans and appreciation for his current situation came out during a recent concert in Miami where he gave a shoutout to one of his fans rocking a Donda West and a "runaway" tattoo.
Everyone meet Krystal, the girl who brought Kanye to tears.
The shoutout happened during one of Kanye's concerts in Miami during the Saint Pablo Tour.
Before serenading the girl, Kanye told the crowd,
The girl with the 'In loving memory of' and the 'Runaway' tattoo right here. You literally brought tears to my eyes.
The tour hasn't always been this easy-going, though.
The events during the Miami concert were a stark change from a few nights ago when a fan tried to scale his floating stage to get some one-on-one time with Kanye mid-concert.
Please serenade me, Kanye.
Citations: Emotional Kanye West Serenades a Fan Find Out Why She Brought Tears to His Eyes (E!)