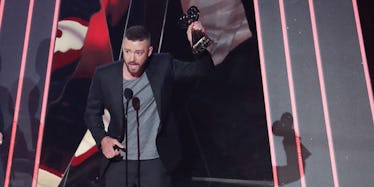 Justin Timberlake Was Censored At iHeartRadio Awards During Inspiring Speech
REX/Shutterstock
Look, we all knew Justin Timberlake would take home the gold for Song of the Year at the 2017 iHeartRadio Music Awards...it was just inevitable at this point.
No offense to Drake or The Chainsmokers, but "Can't Stop The Feeling!" was more than deserving of this award. Don't @ me, it's the truth.
However, what we didn't know was that the 36-year-old singer would use his winning moment to deliver one of the most inspiring speeches of all time... and be censored for it.
Yup, Justin Timberlake decided to use his acceptance speech as a chance to talk about diversity and the importance of inclusion for people who feel different.
He told the audience,
If you are black or you are brown or you are gay or lesbian or you are trans, or maybe you're just a sissy singing boy from Tennessee... Anybody that is treating you unkindly, it's only because they are afraid or they have been taught to be afraid of how important you are. Because being different means you make the difference, so fuck 'em.
Being different means you make the difference, so F#$& 'em! @Jtimberlake #SongOfTheYear #iHeartAwards pic.twitter.com/zN5GZi7ddR — iHeartRadio (@iHeartRadio) March 6, 2017
Yes, JT dropped the F-bomb on national TV.
Of course, the last part of his speech was censored because, you know, there are kids watching at home, but regardless, his message was clear.
Justin Timberlake received praise on social media for his unifying and uplifting words. People went to Twitter to call his speech "profound" and "inspiring."
No one even seemed to care he cursed because everyone was so touched by his message.
Congratulations to Justin Timberlake and the other winners at the iHeartRadio Music Awards, but most of all, congrats to Jessica Biel for finding a husband who's equally as kindhearted as he is hot.