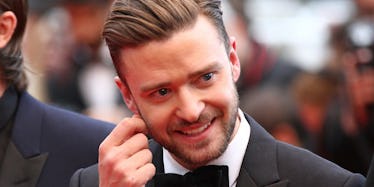 Justin Timberlake Crashed A Wedding And The Video Will Make You Fall In Love
Shutterstock
If you find a husband secure enough to let Justin Timberlake pose alongside him in your wedding photos, never let that man go.
NEV -- are you listening to me, Chelsey? Look at me. Listen to me. NEVER. LET. RYAN. GO.
Chelsey Gaudet and Ryan Parks were casually committing their lives to one another at a gorgeous venue in upstate New Hampshire when the bride's father delivered the perfect something borrowed on his baby's big day.
Mr. Gaudet spotted Justin Timberlake on the premises and invited him over to join the celebration.
Dressed in something blue (TWO BIRDS, BETCHES, ONE STONE), Justin posed for photos with the newlyweds and then graciously stepped aside to avoid stealing any more of their wedding day thunder.
That Justin Timberlake is a CLASS ACT and a SEASONED PROFESSIONAL, kiddos. He will show up for photo hour in golf clothes that don't clash and get the perfect shot in the first five frames.
I now pronounce all of us even deeper in love with Justin Randall Timberlake than we were before. You may now kiss your "Alpha Dog" DVD.
Citations: JUSTIN TIMBERLAKE THE WEDDING CRASHER (TMZ)