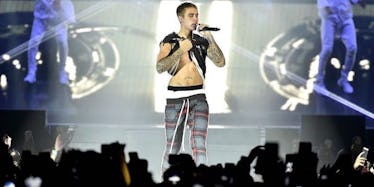 Justin Bieber Channels Rihanna And Lena Dunham With His Huge New Tattoo
REX/Shutterstock
Another day, another Justin Bieber tattoo. The pop star got inked up yet again recently, and this time it's pretty major. I'm starting to think he's got more ink than skin at this point.
Bieber must have been feeling at one with the animal kingdom this weekend because his two new tattoos are gigantic portraits of animals, and they might be two of the largest ones on his body!
The Biebs showed off a gigantic tattoo of an eagle on his stomach in a new video on his Instagram, and he also added a giant snarling bear's face on his left pec.
Justin's bear and eagle tats now reside among the various etchings on the pop star's chest and stomach, which include a crown on his right collarbone, "1975" in Roman numerals on his left collarbone (his mother's birth year), a large cross on his sternum and the pièce de résistance: the words "Son Of God" written in large letters beneath his pecs.
Though the significance of the two new animalistic tats is unknown, Bieber is clearly loving them in the indulgent video he posted to give fans a good look at his bod.
Back in June of 2016, New York magazine reported Justin Bieber had a whopping 56 tattoos. I'm thinking he's definitely at least broken 60 by now.
Justin may have gotten some inspiration from a couple of other superstars for that huge eagle tattoo. It's hard not to compare it to the recent under-boob tats that Rihanna and Lena Dunham both showed off.
The Biebs' bird has the same shape and placement as Lena Dunham's new "warrior chest plate" tattoo...
... and the tattoo of the goddess Isis that Rihanna showed off at the Grammys this year.
I honestly never thought Justin Bieber, Lena Dunham and Rihanna would have something in common, but there it is, right on their stomachs.