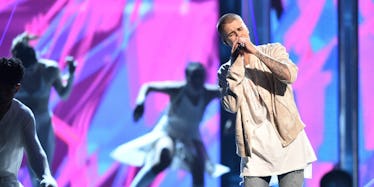 Justin Bieber Got A Huge 'Son Of God' Tattoo Across His Abs
REX/Shutters
Justin Bieber flashing his abs is enough to send even the most casual of Beliebers into a screaming mess, but some lucky fans in Italy got to see a lot more.
No, not that, you pervert.
Bieber revealed a huge new tattoo on his abs, and his fans were more than happy to be the first witnesses of the fresh ink.
The pop star lifted up his shirt to show "Son of God" tattooed on his abs. It's just one in his collection of over 50 tats.
He also has a number of other religious symbols permanently etched on his bod, including a portrait of Jesus, a cross on his face and angel wings on the back of his neck.
"Son of God" joins the word "Purpose," which is tattooed right above his belly button.
While he's obviously a big fan of body art, there's one place he would never tattoo: his lower back. He told GQ,
I can't say I really feel lower back tattoos on a male or a female. I think David Beckham has a lower tramp stamp, and that's no good.
Bieber, who is currently on tour, performed at the AMAs this Sunday via satellite. He also won four American Music Awards this year, which made him one of the top 10 AMA winners of all time.
The 22-year-old is well known for his Christian faith, even his album Purpose is very strongly steeped in his faith.  He told Complex,
If we can understand that we're all imperfect, let's come to God and come for his help. You're not weak by doing that. I think that's a common misperception of Christians, that you're being weak because you can't handle it. None of us can handle this world, dude! It's eating us alive.
It's really no surprise that he would so proudly show off his love for the J-man.
Citations: Justin Bieber Shows Off New 'Son of God' Tattoo During Concert in Italy (ET Online)