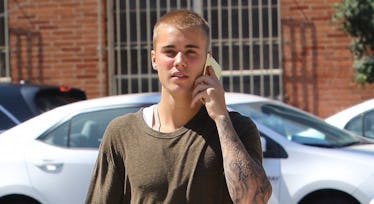 Justin Bieber Swam Naked With His Rumored GF And There Are NSFW Photos
REX/Shutterstock
Yesterday, Orlando Bloom broke the internet with pics of him paddleboarding naked with Katy Perry.
His penis blew up on social media and the world didn't know how to handle it. The little Legolas we grew up with was now a man. Instead of staring at his gorgeous blonde locks, our eyes were directed to something... different.
But Orlando Bloom isn't the only celeb getting nakey this week. Justin Bieber just one-upped the actor by going swimming butt-naked.
YUP, the Biebs showed off his package literally 24 hours after Orlando blessed us with his.
THERE'S SOMETHING IN THE WATER THIS WEEK, LADIES. Embrace it.
Justin Bieber was vacationing in Hawaii with his rumored new girlfriend, Sahara Ray, when he was photographed taking a dip in the nude.
Actually, they both were naked. LOL. It must have been hot out, I guess? BE FREE, BIEBER!
And for the big Beliebers in the house, check out this uncensored pic.
This isn't the first time Justin Bieber has been spotted letting it all hang loose. Remember these pics?
Memories!
Oh, Bieber. This is Sahara Ray, by the way. (LOL, rhymes.) What a hottie.
I'm looking forward to seeing which celebrity will come forward tomorrow to top them both. Calvin Harris, my money's on you.
Citations: Justin Bieber Naked (NY Daily News)