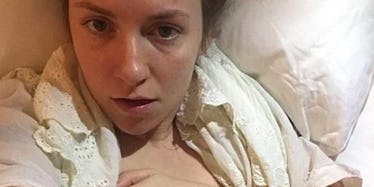 Lena Dunham Posts Topless Pic Of New Tattoo She Copied From Rihanna
Instagram
Lena Dunham is not afraid to take inspiration from the greats, and who is greater than Rihanna?
The 30-year-old actress recently got a tattoo rather similar to one the "Work" singer has had for several years — a fact Lena fully and willingly acknowledged.
On Thursday, Lena shared a photo on Instagram of her new ink, and yes, she was topless in the picture. That was the only way to properly display what Lena describes as her "warrior's chest plate/tit chandelier." (Her words.)
In the caption of her new chandelier tattoo, Lena wrote,
Thank you @trinegrimm for my warrior's chest plate/tit chandelier. This is my first original piece by a female tattoo artist and it felt sacred and cool and she didn't chide me for copying @badgalriri's placement. If you're ever in Oslo, go meet this metal queen and let her handle your body.
Lena credited Trine Grimm, a Norwegian tattoo artist based in Oslo, for the piece.
And yes, as Lena said, the tattoo is similar in placement and shape to a tattoo Rihanna got in 2012.
The content, however, is pretty different. While Lena's is a chandelier, Rih Rih's is the winged Egyptian goddess, Isis.
So really, who can blame Lena for wanting to emulate that? That's one of the coolest, sexiest, most badass tattoos I've ever seen.
And I guess this means Lena Dunham is back to loving Rihanna? Back in 2013, on Alec Baldwin's podcast, she criticized Rih for getting back together with Chris Brown and posting pictures of herself smoking marijuana.
Lena told Alec she "used to be really into Rihanna," but then something changed. She said,
She's talented. And then she gets back together with Chris Brown and posts a million pictures of them smoking marijuana together on a bed. And it cracks my heart in half in a way that makes me feel like I'm 95 years old.
This is hardly Lena Dunham's first tat. We know from her "73 Questions" video with Vogue that she has nine other tattoos on top of this tit chandelier, in fact.
Maybe her next one will honor Odell Beckham Jr.
Citations: Lena Dunham Shows Off Giant New Chest Tattoo With Shirtless Pic – See Which Celeb She 'Copied' (Entertainment Tonight)