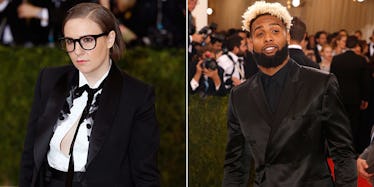 Twitter Is Still Mad At Lena Dunham For Saying Odell Beckham Jr. Ignored Her
REUTERS
By the time Lena Dunham tried to explain why she'd talked to Amy Schumer about Odell Beckham Jr., the damage was done.
Nonetheless, the 30-year-old actress still made an effort to clarify her statements.
The story that Dunham references was a anecdote she shared with Schumer, during a discussion the two had for the weekly feminist newsletter, Lenny Letter.
Dunham told Schumer about her experience sitting next to Beckham, star receiver for the New York Giants, who she said didn't care to speak to her.
She explained,
I was sitting next to Odell Beckham Jr., and it was so amazing because it was like he looked at me and he determined I was not the shape of a woman by his standards. He was like, 'That's a marshmallow. That's a child. That's a dog.' It wasn't mean — he just seemed confused. The vibe was very much like, 'Do I want to fuck it? Is it wearing a … yep, it's wearing a tuxedo. I'm going to go back to my cell phone.' It was like we were forced to be together, and he literally was scrolling Instagram rather than have to look at a woman in a bow tie. I was like, 'This should be called the Metropolitan Museum of Getting Rejected by Athletes.'
To many, her words seemed like an unjustified attack on Beckham's character, which painted him as shallow and superficial.
So, it wasn't long 'til Dunham, who isn't exactly a universally liked celebrity, starting catching heat from all angles.
Dunham insisted on Friday that it was all a misunderstanding.
But on Saturday, people were still pissed about what she said.
Odell Beckham has yet to comment on the subject.