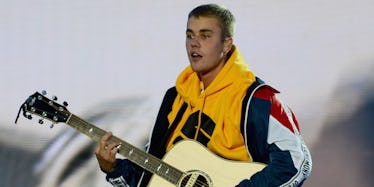 Justin Bieber Makes First Appearance Since Canceling 'Purpose' Tour & There Are Pics
Getty Images/Dave Hogan for One Love Manchester
Just last month, Justin Bieber shocked fans when he decided to abruptly cancel the remainder of his Purpose Tour. The 23-year-old singer made the move to take a break from singing for several reasons, but now photos of Justin Bieber after canceling his Purpose Tour have surfaced.
According to People, Justin Bieber was spotted at the Hanes x Karla launch event on Thursday, August 3, in West Hollywood, California. Elite Daily reached out to Bieber's team for comment on his first appearance since canceling the tour, but did not hear back by the time of publication.
In the photos, Bieber is seen talking with his manager, Scooter Braun, and wearing a white T-shirt, jeans, a backpack, hat, and glasses. He reportedly was in attendance to support his white T-shirt collaboration with Hanes and stylist Karla Welch.
This past Wednesday, August 2, Bieber broke his silence on social media and shared the real reason he decided to cancel his Purpose Tour. In an emotional Instagram message to fans he wrote,
I'm so grateful for this journey with all of you.. I'm grateful for the tours but most of all I am grateful I get to go through this life WITH YOU.! Learning and growing hasn't always been easy but knowing I'm not alone has kept me going. I have let my insecurities get the best of me at times, I let my broken relationships dictate the way I acted toward people and the way I treated them! I let bitterness, jealousy and fear run my life.!!!! I am extremely blessed to have people in the past few years help me build my character back up reminding me of who I am and who I want to be!!!.
Many fans assumed Bieber's canceled tour might indicate he's leaving music forever, but now Beliebers can be rest assured that's not the case. He explains in the post how he wants his "mind, heart, and soul to be sustainable" so his music career continues to thrive in the years to come. You can read the full message below.
Thanks for always being so open and honest with us, Bieber. We're excited to see where you and your music go from here.