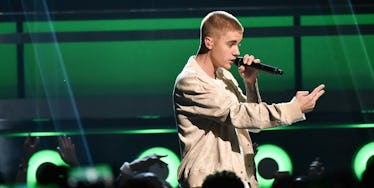 Justin Bieber Previewed His New Song At A Nightclub And It Sounds Lit
REX/Shutterstock
I don't care what anyone says -- Justin Bieber LOVES his fans.
Despite the fact that he's made headlines in the past for refusing to hug a few of them and stop for photos at inconvenient moments, the 22-year-old star doesn't forget to show his appreciation for his "Beliebers."
That's precisely why he made sure to make a surprise appearance at a popular nightclub event called Taboo in Manchester after one of his "Purpose World Tour" shows at the Manchester Arena in the UK.
Not only did the Biebs stun his fans with his spontaneous appearance, he also came with a gift for all of them (and the rest of the world).
Take a wild guess... If you said "a new Instagram account,"
I hate to break it to you, but you're WRONG.
Justin Bieber is STILL steering clear of Instagram following that drama he had with Selena Gomez and Sofia Richie this past summer.
However, if you guessed that Justin Bieber previewed a new song for the crowd at the club, you are CORRECT.
According to Complex, Justin Bieber was all over the place as he socialized with fans and snapped selfies all around the venue. Who said he doesn't love his fans?!
Fans couldn't get enough of Justin Bieber when he randomly showed up at a popular club in Manchester this week.
They were STOKED.
For many, it was truly a life-changing experience.
Finally, Justin was generous enough to preview a new song titled "Close to You." Check it out below!
Soundin' good, JB!
Is it safe to say #BieberSeason is swiftly approaching or nah?! I think yes.
Let's hope the rest of Bieber's European tour goes smoothly. During his first show in Manchester this month, he dropped his mic and literally walked off stage after saying,
I appreciate all the support, I appreciate love, I appreciate the kind things. But the screaming in these breaks has got to stop. Please and thank you. I don't think it's necessary when I'm trying to say something and you guys are screaming.
We'll consider his kind gesture at the Taboo nightclub event a formal apology to Manchester!
Citations: Watch Justin Bieber Party With College Kids and Play New Music (Complex)