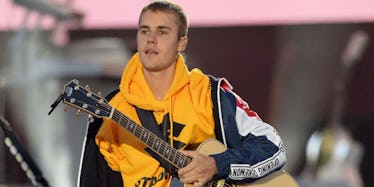 Justin Bieber Drops Single "2U" With David Guetta And It's The Song Of The Summer
Getty Images/Dave Hogan for One Love Manchester
Justin Bieber just released his first collab with David Guetta, "2U," and the internet is loving it.
The new song is part of a day filled with lots of new music on Spotify, like Katy Perry's new album Witness, and — in the most petty move on the planet — Taylor Swift's entire discography.
But I can't even talk about that right now. It's still too fresh. Let's just talk about Justin.
In a statement about the song, David Guetta said,
Justin has such a unique voice and I have so much respect for his talent but also for his choices. He took some risks reinventing himself lately in such a cool amazing creative way. I'm very proud to finally share a record with him. I feel like '2U' is an incredible combination of emotion energy with a huge melody combined with edgy sounds.
The song is definitely filled with that ~emotional energy~ Guetta mentioned.
Just check out some of the lyrics:
No limit in the sky That I won't fly for ya No amount of tears in my eyes That I won't cry for ya, oh no With every breath that I take I want you to share that air with me There's no promise that I won't keep I'll climb a mountain, there's none too steep When it comes to you There's no crime Let's take both of our souls And intertwine When it comes to you Don't be blind Watch me speak from my heart When it comes to you, comes to you
DAMN, A MAN HASN'T SPOKEN TO ME LIKE THAT IN YEARS.
The Biebs had been teasing the song for a while on his Twitter before it dropped.
And it comes with a music video featuring Victoria's Secret Angels lip-syncing!
I guess this is him officially campaigning to be a performer at the 2018 Victoria's Secret Fashion Show.
Fans are already saying it's the song of the summer.
And honestly, are they wrong? Between "Despacito," "I'm The One," and now "2U," one of them is bound to be the song of the summer.
The last time we saw the Biebs, he was giving an emotional performance at the One Love Manchester concert.
He performed acoustic versions of his hits "Love Yourself" and "Cold Water" -- two songs that also hit number one at some point. LMAO, OK. Yeah, Justin Bieber is low-key the king of singles.
TY, Justin, for distracting me from all of the Katy Perry and Taylor Swift drama.
LAWD KNOWS I NEED THE DISTRACTION.