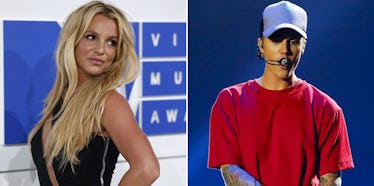 Justin Bieber And Britney Spears Are Going On Tour Together And We're Pumped
REUTERS
If you haven't gotten over the fact that Britney Spears, in fact, has admitted to having a crush on Justin Bieber, you're going to need to get over it right away because things are only getting more serious between these two.
OK, fine, I won't start any dating rumors -- those are DANGEROUS.
But, I will say that these two pop stars are actually going on tour together, which means Britney Spears will finally get to work side-by-side with the Biebs.
According to DailyMail.com, Britney Spears and Justin Bieber will join each other for the iHeartRadio Jingle Ball tour.
The tour begins on November 29 and will travel to cities like Los Angeles, New York, Miami, Boston, Dallas, Chicago and more.
As for Britney and Justin, they'll be performing at the Los Angeles show on December 2.
I'll say it "one more time" -- Britney Spears will have the chance to FINALLY work with Justin Bieber.
In a past interview on the UK-based talk show "Loose Women," Spears revealed that she would marry Justin Bieber (with zero hesitation).
In a recent statement regarding the tour, President of National Programming Group at iHeartMedia Tom Poleman said,
The iHeartRadio Jingle Ball Tour has become synonymous with the holidays. Fans wait all year to hear who will be playing this tour, and we're thrilled to be announcing an impressive lineup. If you're an artist who makes it to this stage, it means you're one of the most important artists in pop music this year.
Is there anyone more important in pop music who isn't Justin Bieber or Britney Spears?! I think not.
Well, there are certainly a few legends out there I can name, but Britney and Justin are pop royalty.
Other acts taking part in the holiday season tour include Niall Horan, Ariana Grande, Bruno Mars, Charlie Puth, Ellie Goulding and Meghan Trainor.
The best part about this news? Your FOMO won't be as severe because iHeartRadio will be working with the CW network to broadcast an exclusive television special on the tour. Set your DVR for December 15 at 8 o'clock on the CW.
Check out tour dates and more information about the iHeartRadio Jingle Ball tour here.
Citations: Her wish is coming true! Britney Spears will work with 'crush' Justin Bieber on iHeartRadio Jingle Ball tour (Daily Mail)