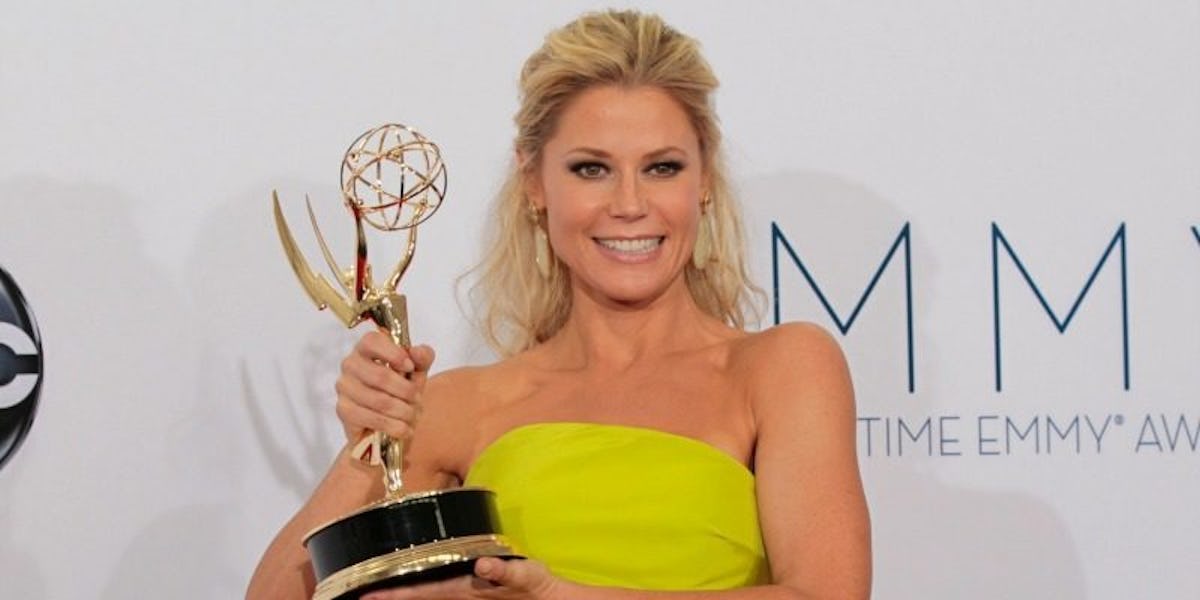 Definitive Proof Julie Bowen From 'Modern Family' Is The MILF Of All MILFs
REUTERS
Look, you can fangirl over Beyoncé and Kim Kardashian all you want, and you have good reason to do so, but it's high time we give some much-needed praise to the pride of Baltimore, Julie Bowen.
You're probably most familiar with Bowen for her role as super-mom Claire Dunphy on the ABC hit "Modern Family."
Yeah, that queen of television.
For her outstanding acting as Claire Dunphy, Julie Bowen has won two Emmy Awards and racked up six Emmy nominations in total. Now, as "Modern Family" gets set for its eighth season, premiering on September 21, it's time to give Bowen the spotlight.
Julie Bowen is 46-years-old, and I say this with the utmost admiration and respect, she's the MILF of all MILFs. Yes, I said it.
Bowen isn't just the queen of the MILFs because she plays the best mom on television, she's also doing a pretty damn good job of raising her own kids in real life.
I was just 5 feet away from Julie Bowen a.k.a Claire Dunphy in modern family... pic.twitter.com/X6Cag5Pl — Ashlyn Germoles (@stay_germy) July 17, 2012
Sunday night, the "Modern Family" cast, including Julie Bowen, of course, will once again grace the Emmy Awards with their presence, but before the 68th installment of the awards show airs, check out the definitive proof Bowen is indeed the MILF of all MILFs.
For starters, before Bowen was Claire Dunphy, she was the incredibly sexy Virginia Venit from "Happy Gilmore."
And just look at the way she carries that Dyson v6 Absolute vacuum around.
Jimmy Kimmel sure looks great... when he's standing next to Julie Bowen.
I mean... come on.
Tell me you know a hotter MILF than Julie Bowen.
Yeah, I didn't think so. Who else but Claire Dunphy could match her top with the pots and pull off that sexy, distressed look?
Sunday night, Bowen will once again grace the stage at the Emmy Awards, and I cannot wait.
I think I speak for plenty of dudes when I say there's no one else I'd rather have to fold my laundry and give me a snack before I head out the door.
I know you might've had some pretty other noteworthy MILF crushes in the past, but no woman holds a candle to Bowen.
Julie Bowen, you're absolutely perfect. Please, never change.