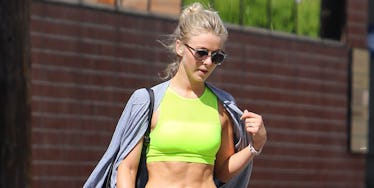 Julianne Hough's Daily Diet Includes La Croix Seltzer And Barely Any Carbs
REX/Shutterstock
It's officially after the holiday season, so there are only two things left to do for the next few months: diet and complain about dieting.
Luckily, Julianne Hough is here to dish on what she eats to keep in great shape.
OK, I will, Julianne. And thanks for calling me a stud!
The "Dancing With The Stars" judge took some time to discuss with People the diet she maintains with her hectic schedule.
Here it is, with a few thoughts of my own of course.
Staying hydrated
Julianne guzzles down four to six glasses of water a day.
OK, I'm asking for a friend here... Can I replace the water with Diet Coke?
Having some nutrients before your pre-breakfast workout
Julianne wants you to have some pre-workout fuel, which includes green juice combined with a cucumber, some spinach, kale, pear, celery, carrot, a green apple, ginger, lemon and beets (so basically an entire farm. Just take some green juice and add a farm).
Of course, my pre-workout usually involves sleeping a lot. Coincidentally, that's pretty much my actual workout.
Breakfast o' Champions
For the most important meal of the day, Julianne enjoys two steamed eggs over easy, but adds a little flourish of sliced avocado and sliced tomato.
I imagine me in a James Bond-y voice saying, "I'll have two eggs, steamed... over easy."
For her morning hot beverage, she enjoys some English Breakfast tea, complete with skim milk and Stevia in the Raw.
Fun fact: "Stevia in the Raw" sounds like a porno.
Snack time!
Julianne likes to indulge in an Apple Pie smoothie, which consists of five raw almonds, one red apple, one small frozen banana, 6 ounces of fat free plain Greek yogurt, a half cup of almond milk and half teaspoon of ground cinnamon.
I legit thought she planned to make an "Apple Pie smoothie" by shoving an apple pie into a blender. I am very disappointed.
Ah, lunch: the cooler, older brother of breakfast...
For lunch, AKA my "Breakfast 2.0," Julianne enjoys a boneless, skinless chicken breast, which she serves over a mixed green salad complete with tomatoes, cucumbers, hearts of palm, almonds, edamame, banana peppers, olive oil and squeezed lemon.
WHAT IS THIS? A LUNCH FOR ANTS?!
Snack time, part deux!
This time, Julianne really likes to splurge... by only having an orange. JUST ONE?!
All right, I'll admit I do like having oranges for snacks. I guess we're not so different, Julianne and I.
Dinner for the win!
What goes with a 6-oz. salmon? How about some sliced lemon and rosemary accompanied with olive oil and two cups of sautéed spinach with a dash of pink salt.
Oh, and some La Croix.
I don't always drink a hipster's version of nonalcoholic champagne, but when I do, I drink Le Croix.
The real reason we stay up late: dessert...
Julianne has not one, not two, not three, but four dark chocolate-covered almonds for her final "meal" of the day.
Wait, THIS is her dessert? Four dark chocolate-covered almonds would be my dessert... if I were trapped on a deserted island (more like a dessert-ed island, right?).
And the total calorie count?
A mere 1,526 calories.
That's roughly the same amount of calories I ate while writing this. FML.
Citations: Julianne Hough's Food Diary: What I Eat in a Day (People)