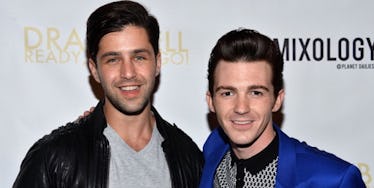 Josh Peck Reveals Truth About Friendship With Drake Bell At The VMAs – EXCLUSIVE
Amanda Edwards/GETTY
If you loved Drake & Josh as much as I did growing up, you probably lost it when Josh Peck and Drake Bell hugged at the VMAs. That's right, the former co-stars embraced on the red carpet and it was everything. Elite Daily actually had the chance to chat with Peck about their friendship, and he revealed the truth about what's been going down between the two.
When asked what it means to be at the VMAs, Peck tells Elite Daily,
It's really cool to support, as always, the MTV, Nickelodeon, Viacom family, and I'm here with my wife, Paige, which is always a pleasure -- just here to watch some dope performances.
Peck then went on to explain that life's been pretty good since his wedding. The star recently married longtime girlfriend Paige O'Brien, and had a beautiful wedding -- except he didn't invite Drake Bell. Peck comments,
Oh, I'm glowing, can't you tell? It's very good and she said "I do" and she seems to still like me so, uh, it's going strong!
Peck also spoke a little bit about what it's like to have fans who have followed him so closely since his Drake & Josh days. He explained,
I know it sounds corny, but it's beyond an honor to have these kids who loved the show 12 years ago when we finished making it, and the fact that they still are ride and die for D and J is incredible.
OMG, D AND J. I'm freaking out. When asked if Josh has seen Drake on the red carpet yet he says not yet, but it's "all love." He shares,
I haven't, no, but that's all love. I'm so excited he's here.
Peck then explains that it would be great to run into him before the night is over so they could take an incredible photo and clear up any rumors about drama for fans. While talking about a reunion with Drake, Josh adds,
That's the picture of the night, come on. You never know, gotta keep you guessing.
Welp, I guess they did end up taking that photo! Thanks for clearing it up, Josh!