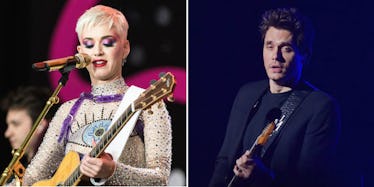 John Mayer Responded To Katy Perry Saying He's The Best In Bed And It's So Awkward
Ian Gavan/Getty Images and Mike Coppola/Getty Images
Apparently, John Mayer's body is a wonderland. Ex-girlfriend Katy Perry revealed to The Late Late Show host James Corden that Mayer was the best in bed when compared to all of her ex-lovers, and it was kind of awesome.
As part of her 72-hour Witness Live Stream Event, Corden stopped by to play "Spill Your Guts Or Fill Your Guts," forcing Perry to reveal intimate secrets or pay the price by eating something disgusting.
During the game, Corden asked Perry to rate her ex-lovers Diplo, Mayer, and Orlando Bloom, and Mayer came out on top. Though Perry tried to cover her tracks by shouting, "They're all amazing lovers and I would have sex with all of them after I get out of this place," someone still had to be the best.
That someone... is John.
So, how did John Mayer respond to the good news? With this weird mumbo jumbo in a Rolling Stones interview:
I don't have a cool enough thought for you. I've hacked this game. I pay very little of the price of fame now. I get to play the music that moves me the most. I'm having the time of my life. I'm 39 — I remember 32. I don't wanna do it again.
Right... that's what I always say when my famous ex-boyfriends talk about how good I am in bed, too.
Just kidding. He's awkward.
Still, I suppose there is no rule book for how to handle this kind of unexpected, public feedback.
Rumors are also still circulating that Mayer never really got over Perry. He even admitted in an interview with The New York Times his song "Still Feel Like Your Man" is about her.
He said,
Who else would I be thinking about? And by the way, it's a testament to the fact that I have not dated a lot of people in the last five, six years. That was my only relationship. So it's like, give me this, people.
Ah, John. A man of many – yet, so confusing – words.