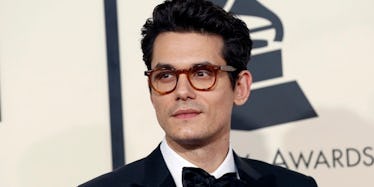 John Mayer Reveals Whether He Would Consider Being The Next 'Bachelor'
REUTERS
If John Mayer agreed to be the next "Bachelor," I would sign up for auditions immediately with hopes we'd fall madly in love and live happily ever after. (A girl can dream, can't she?)
I'm super into the whole "hot, mysterious musician" thing and would take the opportunity to compete for John Mayer's love in a millisecond.
SERENADE ME, JOHN.
It looks like my dream of becoming John Mayer's new bae isn't too far-fetched because he talked about being on "The Bachelor" on "The Ellen Degeneres Show" on Friday.
Surprisingly enough, he loves the show and talked to Ellen about how addicted he becomes when he starts an episode (join the club, John.)
When asked if he was caught up with the current season, he said,
I love the show, but it's too much time to ask of me -- two hours is a lot of quiet time.
After making his remark, the singer joked he'd pay $50 to get to binge-watch a season in 30 minutes. What's the fun in that, though?!
Finally, Ellen asked John the question we've all been waiting for.
She said,
You should be a bachelor! Didn't we talk about that before?
Yes, Ellen, yes! Persuade him!
John quickly responded to the host,
I think it would be really fun to be 'The Bachelor.'
HOLY CRAP. HE AGREED. JOHN MAYER WANTS TO BE "THE BACHELOR!"
Ugh... wait a second.
As hopeful as we became in the split second after his response, our dreams of dating John were crushed when Ellen asked him if "he'd really consider it."
Almost instantly, he responded with "no."
UGH. WE WERE SO CLOSE.
We have to give him some credit, though, because his reasoning was definitely legitimate.
After saying "no" to being on the show, he justified his decision,
I don't think that I would find love there, unless they would change the sort of vetting process for who would be the contestants.
The singer also said he thinks it'd be "one of the lowest rated shows" if he was featured (we disagree).
So... like, I guess there is hope that John Mayer could be the next bachelor. I'm about to call the show's producers and ask them to consider John's request ASAP because this needs to happen.
Citations: John Mayer Opens Up About His Obsession With 'The Bachelor,' Explains Why He Can't Watch an Entire Episode (ET Online)