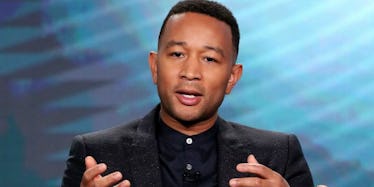 John Legend Urges Mass Resistance Against Trump: 'We Need To Hit The Streets'
REX/Shutterstock
If Chrissy Teigen and John Legend have made one thing abundantly clear this year, it's they do not support President Donald Trump.
As a matter of fact, Teigen has been expressing her anti-Trump stance for years. Tweets from the supermodel's Twitter account dating back to 2011 are proof.
John Legend, Teigen's husband, has become increasingly vocal about his disapproval of President Trump and his political agenda, too.
While Legend has been known not to have supported Trump throughout the entirety of his presidential campaign, the 38-year-old singer began speaking out even more after Kanye West popped up alongside the 45th president in December.
Legend spoke about how West's "stunt," saying,
I don't think it's impossible to talk to [Donald Trump] about issues, but I won't be used as a publicity stunt. I think Kanye was a publicity stunt… he says he would have voted for Trump. I think Trump has been corrosive, his message has been corrosive to the country. And I think the things he's promised to do have been very concerning for a lot of people, and for Kanye to support that message is very disappointing.
Since then, John Legend hasn't bit his tongue when addressing the current state of American politics. In a new interview with Fault magazine, Legend was asked about raising his daughter Luna in "Trump's America."
Legend responded,
Hopefully 'Trump's America' won't last very long and we get him out of here within the next four years. By the time Luna is old enough to be aware of what is happening, America would have elected a far better president.
The man has a point! Luna will just be reading about Trump's treacherous first 100 days in the history books. Still, Legend doesn't think Trump deserves to lead the nation.
That's precisely why he's urging a mass resistance against the 70-year-old real estate mogul's administration as soon as things really go south.
Legend told Fault while the president has vowed to deliver on "good" promises, he's also promised to pursue initiatives that Legend feels are "really bad for the country."
I'm just hoping for the best and when we need to resist and speak out, we need to hit the streets and do it. For now, I'm more worried for the people less fortunate than my daughter, people who might lose their healthcare or get excluded because of the colour of their skin, their religion and country of origin.
If you think the 38-year-old singer is all talk and no action, think again.
While presenting an accolade at the Producer's Guild of America Awards in Los Angeles last weekend, Legend spoke out against the Trump administration's harsh immigration stance, saying,
We are the voice, we are the face of America. Our America is big, it is free, and it is open to dreamers of all races, all countries, all religions. Our vision of America is directly antithetical to that of President Trump. I want to specifically tonight reject his vision and affirm that America has to be better than that.
The people hear you loud and clear, John.
Citations: John Legend urges Americans to take to the streets and resist Trump (Mashable)