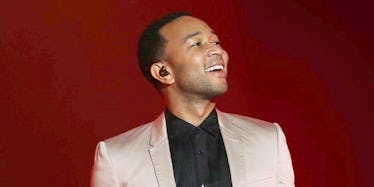 John Legend Drops First Single In 3 Years And It's The Perfect Weekend Jam
REX/Shutterstock
John Legend and his soulful voice are back, baby!
The 37-year-old singer/songwriter just released "Love Me Now," the first single off his upcoming album Darkness and Light, and it's fucking lit.
Legend debuted the hit during a Facebook Live that occurred on Thursday night. In case you've lost track over the years, Darkness and Light will be JL's fifth studio album.
Speaking to his millions of fans via Facebook, Legend said,
I'm so excited for you to hear everything we've done. The music is really, really good. It's going to be really exciting. I think it's my best work yet.
"Really, really good"? John, bro, this song is the new hotness! I want to dance to it at my wedding. I want to be buried to it. I want to shout the lyrics from the rooftops!
All you have to do is listen to Legend's "Love Me Now" once, and I'm sure you'll agree this might just be the greatest song ever released.
According to reports, Legend did concede the fact he thinks Darkness and Light is his "best work yet." The album will reportedly feature collaborations with Chance The Rapper, Miguel, Brittany Howard from the Alabama Shakes and more.
Back to the song, though, because as you can see in the video above, "Love Me Now" is just the kind of feel-good jam we've been waiting for. It's uplifting and incredibly necessary in these increasingly troubling times.
At the moment, the world feels a bit like it's on the brink, and Legend's "Love Me Now" might've just pulled us back from the ledge, at least for a little while.
The rest of Darkness and Light will reportedly drop before the end of 2016, but in the meantime, let's just spend this weekend jamming out to "Love Me Now."
I'll love you now and forever, John Legend.
Citations: John Legend Shares "Love Me Now" Off Upcoming Album 'Darkness and Light' (Complex)