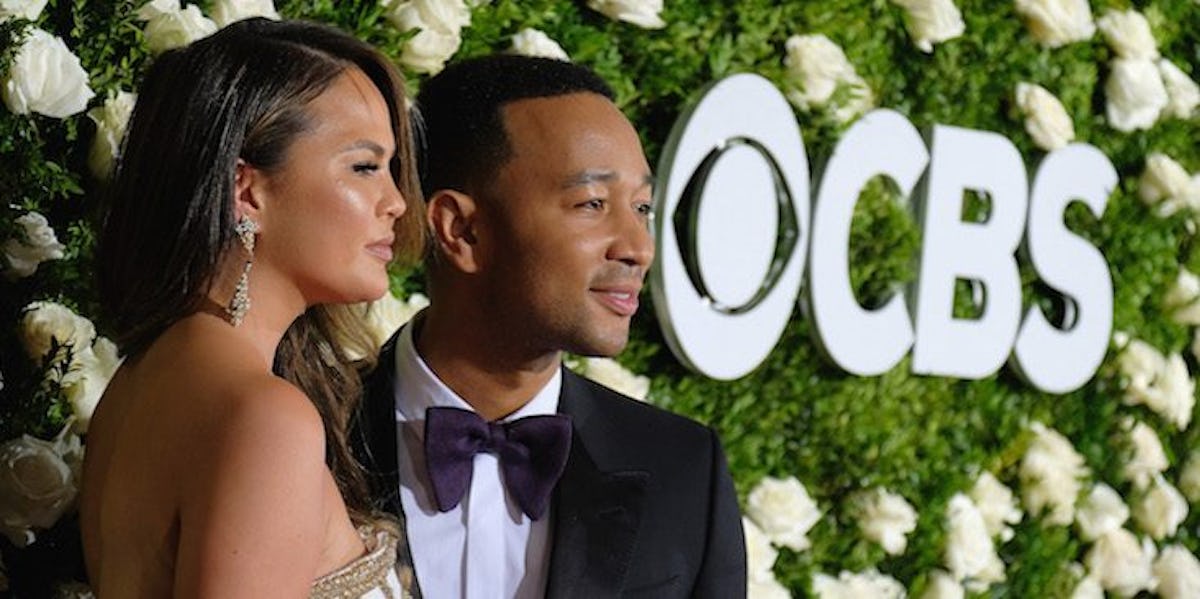 John Legend Posted The Cutest Picture For His Anniversary With Chrissy Teigen
Jemal Countess/Getty Images for Tony Awards Productions
John Legend and Chrissy Teigen just further cemented their status as the cutest celeb couple ever. Fans are already well aware that they are so crazy in love, but John Legend posted the cutest picture for his anniversary with Chrissy Teigen and took the romance to the next level. The caption, though, is everything. How long have Teigen and Legend been married? It feels like they're still in the honeymoon phase of their relationship, but they're celebrating their fourth wedding anniversary. With all the gushing about one another, they're clearly going to grow old together and still be the cutest couple even then.
The couple enjoyed a night out for dinner in London for their anniversary, with Legend posting a pic on Instagram of their date night. Teigen wore a simple little black dress and Legend looked dapper in a black suit. Simple, classic... total fashion goals.
Teigen gives her hubby a sweet kiss on the nose in the pic, which he captioned: "Anniversa-date. Married 4 years today. Met 11 years ago yesterday. I love this woman deeply."
First... aw. He loves her "deeply," which is such an amazingly romantic thing to say. Second? They met 11 years ago? Yep, the two met on the set of Legend's "Stereo" music video in 2007. They dated for four years before getting engaged in 2011 and were married in 2013.
Teigen shared another loved up pic of the couple on her Instagram, wearing yet another LBD and her sweetheart sporting a trenchcoat, captioning it: "Do you know what to-day is #itsouranniversary."
In 2014, Legend explained how it wasn't love at first sight for him and Teigen, which I find almost impossible to believe, as he told Los Angeles Confidential magazine: "Not right away. I'm more cautious than that."
He added, "I wasn't like, 'This is the woman I'm going to marry' from day one. For me I'm the kind of person who needs to grow into that feeling. It was probably a couple of years in when I could already see us being together forever."
Teigen also didn't rush into things too quickly with Legend, telling Cosmopolitan magazine in 2014:
I'm not going to lie. We hooked up. [And then when he went on tour] I left him by himself for a while. The worst thing you can do is try to lock someone like that down early on, then have them think, 'There's so much more out there.' I played it cool for a long time. Never once did I ask, 'What are we?' Marriage was never my goal, because I've never been very traditional. I was just happy to be with him.
She also shared more about what a good guy her husband truly is, explaining:
One of the coolest things is how supportive and happy and proud he is of my success lately. I'm with someone who is totally secure in himself. He's not trying to be anything other than what he is. The confidence he has brings it to me.
He's a total keeper! And check out what Legend said about Teigen being the yin to his yang in a recent Cosmopolitan interview:
There's no problem with openness in our relationship. You know Chrissy. She doesn't hold anything back! I'm quite reserved, but being with someone like her inspires me to be open about my emotions. She brings them out of me because she's so open about hers.
My love for them as a couple just grew 10 times and since I'm feeling mushy, let's look at some of their sweet Insta pics...
Their family is the cutest:
Oh, just Legend slipping into a matching onesie:
So cute:
And he cooks?
How about a wife appreciation post?
Seriously, how perfect are they?
And one more of their family... dang, they made the most adorable baby.
Check out the entire Gen Why series and other videos on Facebook and the Bustle app across Apple TV, Roku, and Amazon Fire TV.