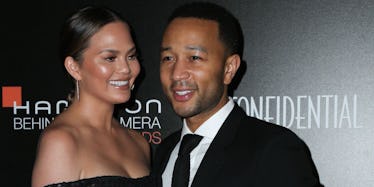 John Legend Reveals The Adorable Anniversary Gift He Gave Chrissy Teigen
REX/Shutterstock
John Legend is an annoyingly great husband.
Every once in a while, I'll have a guy friend of mine do something sooo romantic it's infuriating.
Example: For their second anniversary, my friend MOVED to Israel to live with his girlfriend while she finished medical school.
Then, after they moved back to America, he moved to Rednecksville, Montana to live with her while she did some residency. This isn't a guy who had nothing going on either. He was in a band and had his whole family in America.
HOW ARE THE REST OF US SUPPOSED TO COME CLOSE TO COMPETING WITH THAT?!?!?!?
I hate leaving NYC to go to New Jersey to visit my own family. No way in hell am I moving around the country for my girlfriend who I just made up right now for this story.
If Hollywood has that all-too-romantic friend, it is without a doubt John Legend.
During an interview with ELLE, Mr. Chrissy Teigen casually dropped how he made one of the most romantic gestures of all time to celebrate the couple's anniversary.
When the interviewer asked Legend about whether Chrissy expects him to be sentimental at all times, like in "All of Me," he responded,
You know, Chrissy's kind of funny and cynical. I don't think she ever expected me to be super-romantic and super-sappy all the time. But one of her favorites was when I hired ballet dancers to come and dance for us for our anniversary.
The interviewer responded with a very proper, "UHHHHHHHH, DA'HELL DID YOU JUST SAY?!?!?!," asking Legend what exactly he meant when he said he hired a ballet company to come to his house.
Johnny Romance responded,
No, to this hotel we were staying at. It was a private performance before dinner. We were in western Massachusetts, in the Berkshires. I can't remember exactly which company it was. It took me a while to find somebody who would drive up from New York. Chrissy loves the ballet. That's her secret dream -- to be a ballet dancer.
OK, not as crazy as it sounded before, but still SUPER FRIGGIN' CRAZY. You KNOW Ne-Yo is furiously trying to book a private jazz quartet for his wife's birthday as we speak.
Citations: John Legend on His A Cappella Past Running for Office and Black Lives Matter (ELLE)