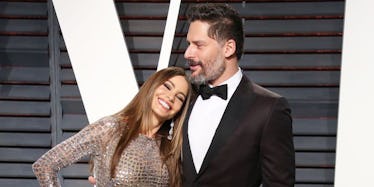 Joe Manganiello Gushes Over Sofía Vergara: 'I Married The Girl That I Love'
REX/Shutterstock
Look, any man who marries Sofía Vergara should probably be thanking the universe on the regular.
Thankfully, actor Joe Manganiello seems to comprehend just how fortunate his life is.
In a new interview from the April issue of Ocean Drive magazine, a local publication in South Beach, Florida, the 40-year-old "True Blood" actor opened up about his relationship with Sofía Vergara — the 44-year-old Colombian actress known for her role on "Modern Family."
The two actors began dating in 2014 and were married the next year.
According to Manganiello, the whole falling in love and getting married thing was pretty straight forward for them.
He said,
I just married the girl that I love. That was it. From the first date, it was just like, 'Wow!' It was so easy in all the ways that you want it to be easy and challenging in all of the most fun ways possible. So I knew right away and that was it.
Cool, cool, cool, I'm definitely happy for them that they found a loving, stable relationship so easily. I'm definitely not at all bitter about that!
Manganiello did say the decision to go public with the relationship at first was a difficult decision for him, considering his wife's high level of fame.
He said,
I was never part of a celebrity couple before this, because I never wanted to go through the difficulty that can bring in terms of paparazzi and attention. The two of us knew that once it became public that we were together -- and we had conversations about how that would change a lot of things.
Even though it hasn't always been easy, Manganiello says the payoff is worth it: being married to the love his life.
He said,
[Vergara] is the only woman on the planet that I was willing to go through all of that for, because she's the greatest.
And in the end, he said, that stress of fame and attention has only made them stronger as a couple.
He said,
All that pressure has just brought us closer together. It's not something that we welcome into our lives. We try to stay private. At the end of the day, it's really nobody else's business but ours. It's just that I love her and she loves me and here we are. And there is a price for that, when living in the public eye.
Awww. OK, Manganiello, you've passed. You're officially good enough for Gloria.