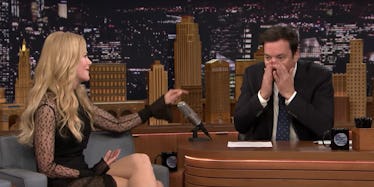 Nicole Kidman Got Real About How Jimmy Fallon Blew A Second Date With Her
YouTube
You done goofed, Jimmy Fallon. Again.
Not only did Jimmy have a chance to go down under with Nicole Kidman, he blew the opportunity twice. Crikey, mate.
Nicole stopped by "The Tonight Show Starring Jimmy Fallon," and the late night host immediately brought up their previous interview on the show when Jimmy found out that he unknowingly rejected romantic advances from the "Eyes Wide Shut" actress.
He recounted,
We once went on a date together, and I had no idea that was true.
In case you need to catch up to speed with the awkwardness of their first interview, here it is in all its golden, cringeworthy splendor:
See? Celebs make huge mistakes in their dating lives just like the rest of us. But let's get back to last night's interview.
After a playful bit that involved the song "Dream Weaver" and longing stares, Nicole dropped another truth bomb and talked about how Jimmy had a second chance to get her number and he didn't even ask,
We were at David Fincher's house. I think it was David's house, and it was when Brad [Pitt] and Jen [Aniston] were still together, so it was a long time ago. And you could have asked for my number then because it was round two – well, second chance. And you still didn't ask for it. And you know that's true, so do not pretend.
Apparently, Jimmy had the shot to ask for her number "at the buffet" (warning: Nicole brings up "the buffet" a lot) and failed to do it.
Overall, there was more unrequited love going on in this interview than in the movie "Moulin Rouge."
This could have been you, Jimmy. That buffet line was your Paris.
While Nicole recounts the story like it was yesterday, Jimmy pretends to vaguely remember the encounter. If it were me, I'd get a tattoo for every social interaction I'd had with Nicole Kidman.
Nicole, who claimed that Jimmy clearly wasn't interested in her at the time, put the whole blunder best when she said,
You had a chance to ask for my number a second time and you didn't.
Oof. That's cold.
Then, things got really awkward when Nicole's husband Keith Urban came out singing "Dream Weaver." You're busted, Fallon.
Because this interview had to get more uncomfortable, Keith started grilling Fallon and asked him to talk about the "buffet."
Game, set, match, Toby Keith.
Citations: Watch Nicole Kidman Recall Second Failed Date With Jimmy Fallon (Rolling Stone)