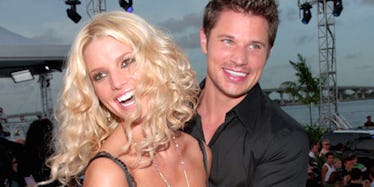 A Reminder That Jessica Simpson And Nick Lachey Were The Best Couple Of The 00s
MTV
Hollywood has seen a lot of power couples come and go over the years.
Before Kimye stole the spot light, there was another pair of pop stars reigning over the celeb scene.
If you think way back to the days when boy bands and bad highlights were actually cool, you probably remember Nick Lachey and Jessica Simpson.
When we were growing up, these two were the hottest couple of the new millennium, not to mention the newlyweds who made us believe in true love.
They melted our hearts as we watched them adapt to married life on MTV's "Newlyweds" reality series, and Jessica always made us laugh with her blonde moments.
Unfortunately, their love didn't stand the test of time, and their divorce was finalized in 2006.
Although their feelings may have faded, Nick and Jess will always have a place in our hearts as the ultimate throwback couple.
Remember these two lovebirds?
Jessica Simpson and Nick Lachey were the greatest couple of all time.
They reportedly met in 1998 at the Hollywood Christmas Parade...
...and it was pretty much love at first sight.
In no time at all, these two were a hot Hollywood item.
It wasn't hard to see they loved each other even more than blonde highlights.
So obviously, Nick put a ring on it.
Nick and Jessica finally tied the knot in 2002...
 ...and became the epitome of the perfect newlyweds.
They were so perfect, MTV made a reality show about them.
Watching the adventures of the married couple made us fall in love with them even more.
Who could forget that hilarious Chicken of the Sea episode? Or Jessica's logic behind buffalo wings?
Everyone totally wanted to see them start a family.
But as we saw in "Newlyweds," they couldn't even decorate their house.
Although they didn't have babies, they had a dog that was just as adorable.
These two were absolutely crazy about each other.
And they weren't afraid to let the whole world know exactly how they felt.
Nick and Jess never let superstardom get in the way of their love.
We thought they were going to be happily married forever.
But, it turns out trouble was brewing behind the scenes.
And like all good things, this marriage finally came to an end in 2006. But even to this day, no one can hold a candle to the burning love we'll always have for this throwback couple.