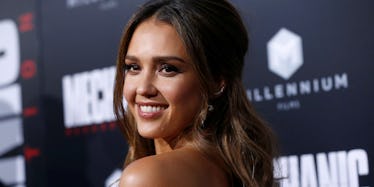 Jessica Alba Said She Doesn't Need Go To The Gym And Everyone Is Jealous AF
REUTERS
You can thank Ellen DeGeneres for outing Jessica Alba as not even being human...
OK, fine, she's still human just like the rest of us, BUT that's super hard to believe because she just announced to the entire world that she doesn't "need" to go to the gym.
This leads me to believe she's actually Sue Storm from "Fantastic Four."
But seriously, how does she do it? How does a mother of two build a successful company and show up on the front page of fitness magazines without hitting the gym every now and then?
The 35-year-old star sat down with talk show host Ellen DeGeneres and spoke about her grueling work schedule and how she rarely ever has time to pump iron.
As expected, people completely lost it after she admitted to rarely ever going to the gym. Meanwhile, normal people like you and I are in the gym every single day as early as 6 am and still can't reach peak perfection.
Why, world, why?!
Ellen had asked Jessica Alba about her Halloween festivities. Alba responded,
I went to a friend's neighborhood because they have like this block party. It's very different in a city versus the suburbs.
She then went on to talk about how hilly it is and how much "exercise" she got from taking her kids trick-or-treating, saying,
You walk up and down and you're getting exercise, so I didn't even need to go to the gym — not like I go to the gym, but I was like, I really don't need to go to the gym.
Hold the fuck up. Did she actually just say, "I really don't need to go to the gym?" The answer is yes, she did and you're jealous, admit it!
Don't worry, folks.
Ellen DeGeneres was a bit confused, too. That's exactly why she just HAD to question Alba about her flawless cover photo on the cover of Shape magazine's October 2016 issue.
Jessica responded,
You know how you cover the bits and you know how to [pose]? That's what I was doing.
Ah, so you mean to tell me that Jessica doesn't need the gym and that she just needs to "cover the bits" and strike a pose? If only life were that easy for the rest of us. However, you can't blame her.
After all, she's a pretty busy woman. Perhaps she's even more busy now with her recent business ventures than in the past when she was gracing the silver screen several times a year.
Alba told Shape magazine,
If I work out four times, I consider it a successful week, but it's typically more like two to three days a week because that's what I have time for.
So, the secret to maintaining your perfect body is to... make almost ZERO time for it?
Why do I feel like that's going to backfire on all of us?!
Citations: Jessica Alba Claims She Doesn't Go to the Gym: I Just 'Cover the Bits' (US Magazine)