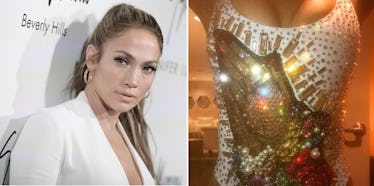 JLo's Sexy Bodysuit Looks Like It's Straight Off The Victoria's Secret Runway
REX/Shutterstock Instagram
Eff. I REALLY gotta see Jennifer Lopez in concert.
If you're not following JLo on Instagram, you're missing out.
The 47-year-old music icon has been absolutely killing it on there and if you needed any convincing as to why you should follow her, aside from the fact it's goddamn Jennifer Lopez, you should know she posts stuff like this:
Yeah. Insanity. It's OK if you weren't following her before. You didn't know. As long as you correct your ways and follow Jenny now that you know, it's going to be fine.
One of the perks of following JLo is you get a behind-the-scenes look at how her concerts come together.
Recently she posted this preview of a new costume she's going to be wearing, and it looks amazing.
Shine on, you crazy diamond!
Let's just all take a second to recognize how versatile this thing is. JLo could wear this thing, she could hang it in a museum, she could melt it down to build a chandelier, she could even retrofit it to wear as Zuul in a future "Ghostbusters" remake.
She explained the costume in the post, saying,
Thank you!!! Here's a closer look at my new costume by @theblondsny for #allihave bc its soooo amaazzzzing!! #details
That shiny onesie is going to be pulling some insane duty whenever it gets used. Jennifer recently posted a video of her practicing for a show and her shirt was barely able to remain intact.
Aside from performing, it's been a busy past few weeks for Lopez, who was rumored to be going out with Drake.
Unfortunately, it's looking like their relationship has sort of fizzled out. Drake has been sighted going out with some random porn star and JLo recently posted this ominous photo to her Instagram.
Drake is an idiot if this is all true. I'm here for you, Jenny, if you need to talk.
Citations: Jennifer Lopez flaunts her enviably lean legs and ample cleavage as she shares series of sizzling snaps Read more: http://www.dailymail.co.uk/tvshowbiz/article-4207206/Jennifer-Lopez-flaunts-ample-cleavage-bodysuit.html#ixzz4YC6M9ah6 Follow us: @MailOnline on Twitter | DailyMail on Facebook (Daily Mail)