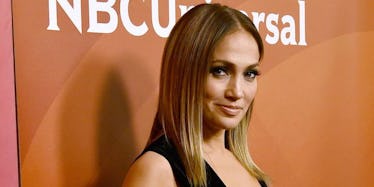 JLo Looks Amazing Wearing $2,100 Crop Top In New Date Pics With A-Rod
REX/Shutterstock
Jennifer Lopez may be dating one of the most hated men in professional sports (aka Alex Rodriguez), but she's looking damn good while she does it.
Case in point: This slammin' outfit the 47-year-old actress and singer was rocking while she was out and about with her man in New York City on Monday.
Consider the following thesis: J Lo is really hot.
Consider the following evidence:
Like! Bitch! She looks freakin' fabulous! Who the heck looks that fly in paparazzi photos? This looks like a poster for the 27th "Fast and Furious" movie, not a random J Lo sighting in NYC.
Have you ever seen such casual slayage?
That top! Those high-waisted matching pants! Those stilettos! And those freakin' aviators! Every part of this outfit is crushing it.
I don't use the phrase "red hot" lightly, but I feel there is no other way to describe this look she's rocking.
The red long-sleeved crop top and attached fabric choker J Lo is wearing here is from Balmain, a French fashion company.
And guess how much that bad boy costs? A mere $2,092 at online retail stores!
*laughs through tears*
I don't even want to know how much the rest of this outfit costs.
A-Rod was looking pretty sharp himself while he accompanied his lady.
The 41-year-old former Yankee third-baseman wore a fine gray suit and tie, black shoes and dark sunglasses.
According to TMZ, the two were leaving a business meeting from an NYC office building.
I don't know what kind of business involves looking this freakin' fly, but I am here for it.
We only found out J Lo and A-Rod were dating a month ago, but since then the couple has really kicked their relationship up a notch.
A-Rod went public with his adoration for Jenny just last week while on "The View," and it sounds like he's pretty serious about her.
He said of Jennifer,
It's obvious. We've been having a great time… We're having a great time. She's an amazing, amazing girl. One of the smartest human beings I've ever met and also an incredible mother… She was a track star in high school and junior high. She's an awesome, awesome athlete.
I mean, when she walks around NYC looking like that, can you blame the guy for gushing?
Just make sure to treat this treasure right, Alex.
Citations: Jennifer Lopez Is Red Hot in $2838 Crop Top on Another Date With Alex Rodriguez: Pics! (ET Online)