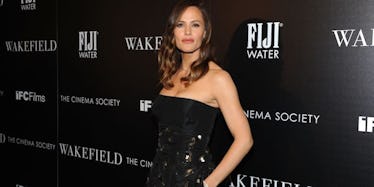 Jennifer Garner Slams Story About Her Divorce, Says Her "Family Is Complete"
Craig Barritt/Getty Images
Jennifer Garner is NOT here for rumors about her family or her divorce from Ben Affleck.
On Wednesday, Elite Daily reported on the People magazine cover story featuring Jennifer Garner alongside a headline that read "Life After Heartbreak."
People's article featured quotes from an "insider," who claimed Jennifer Garner was moving on but "still says Ben was the love of her life."
There weren't a ton of details in the online version of the story, but the fact that Garner was on the cover of this week's issue clearly didn't sit well with the actress. So she decided to set the record straight.
The 45-year-old mom of three, who isn't active on social media — she doesn't even have an Instagram or a Twitter — slammed the article in a rather scathing message posted to her public Facebook page yesterday.
She wrote,
It has been brought to my attention that there is a People magazine cover and article out today that appear to be coming from me. It isn't unusual for me to receive calls from loved ones thinking I forgot to tell them I am pregnant--with twins!--(Geez Louise), but those are so ridiculous they're easy to ignore.
This isn't a tragedy by any measure, but it does affect me and my family and so, before my mom's garden club lights up her phone, I wanted to set the record straight: I did not pose for this cover. I did not participate in or authorize this article.
While we are here, for what it's worth: I have three wonderful kids and my family is complete. Have a beautiful day, Love, Jen
According to AP, a spokesperson for People released a statement standing by the article, calling it "fair and truthful." The statement went on to say the story "does not include rumors and does not say she's pregnant."
Since their initial divorce announcement two years ago, Garner and Affleck have maintained a united front when it comes to co-parenting their children and maintaining respect for one another.
Garner also opened up about the end of their marriage in a revealing Vanity Fair interview in February 2016.
So it's not surprising that she would want to clarify her voice is not behind this particular cover story that prominently features her and seems to imply she sat down for an interview.
Citations: Jennifer Garner Deserves An Award For Her Epic Takedown of People's Story About Her Divorce (Cosmopolitan)