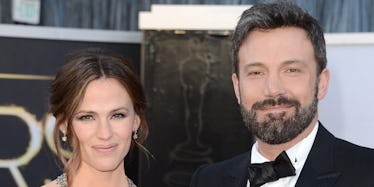 Jennifer Garner Reportedly Still Thinks Ben Affleck Was "The Love Of Her Life"
Jason Merritt/Getty Images
We've weathered some big celebrity breakups recently, and honestly, they're difficult to hear about.
Sure, we know it's not our lives at stake, but somehow watching our favorite celebrities call it quits on love makes us feel bleak. Is there science behind that? Probably. Am I going to bore you with it? Nope.
Instead I'm going to feed your need to know how Jennifer Garner and Ben Affleck -- whom you've never met, but you definitely care about because you clicked on this article -- are fairing post heartbreak.
It's been almost two years since Jennifer Garner and Ben Affleck announced their decision to divorce after 10 years of marriage, but up until papers were filed recently, no one was quite sure they were actually going to go through with it.
When they made the original announcement back in June of 2015, they said,
After much thought and careful consideration, we have made the difficult decision to divorce. We go forward with love and friendship for one another and a commitment to co-parenting our children whose privacy we ask to be respected during this difficult time. This will be our only comment on this private, family matter. Thank you for understanding.
After the announcement, they were often spotted out together and rumors swirled they might call off the divorce.
However, Garner officially filed for divorce in April, and according to People, Affleck has moved out of the couple's home and she is working on moving on with single life.
The couple remain most committed to co-parenting their three children, Violet, 11, Seraphina, 8, and Samuel, 5.
The 45-year-old actress is apparently not, however, ready to date yet. A source revealed,
She will eventually, but it will be a while before she does. She's certainly not jumping up and down and screaming, 'I'm single!' and planning dates.
The source continued,
She still says Ben was the love of her life.
OK, tell me that doesn't still break your heart just a little bit.
It sounds like the mother of three hasn't really changed her tune in the past year. In a revealing interview with Vanity Fair in February of 2016, Garner spoke openly about "Nannygate," her decision to divorce Affleck, and how she has no regrets.
At the time, she told the magazine,
I didn't marry the big fat movie star; I married him. And I would go back and remake that decision. I ran down the beach to him, and I would again. You can't have these three babies and so much of what we had. He's the love of my life. What am I going to do about that? He's the most brilliant person in any room, the most charismatic, the most generous.
This doesn't mean Garner, who has several movies in the works, is still dwelling in the past.
The insider told People,
She seems happy to be single and able to move forward. She has a very positive attitude about the future.
Hopefully both Garner and Affleck can continue to remain close for their kids and also find happiness apart from each other.
Citations: Jennifer Garner Isn't Ready to Date After Divorce: 'Ben Was the Love of Her Life' (People)