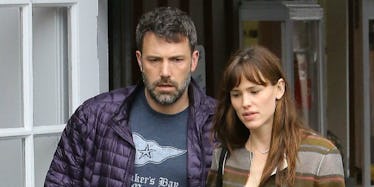 Jennifer Garner And Ben Affleck File For Divorce And Love Is Now Gone, Girl
REX/Shutterstock
After almost two years since they originally announced their split, Jennifer Garner has filed for divorce from Ben Affleck, proving love's death is long, painful and drawn out.
According to TMZ, both the stars are wishing to seek joint legal and physical custody of their three children, and they filed the paperwork together.
Despite all of us rooting for the couple to somehow make it work, this was what the couple seemingly wanted since the beginning of the separation. A source told People,
They always planned to divorce despite what people said. If you look at their first statement it says divorce not separate. They just did it the way they wanted to and did what was best for their kids. There was no catalyst, it was just time. Nothing has changed, they are and still will be putting their kids first.
Garner and Affleck were married for 10 years before they split in June of 2015. This joint statement read,
After much thought and careful consideration, we have made the difficult decision to divorce. We go forward with love and friendship for one another and a commitment to co-parenting our children whose privacy we ask to be respected during this difficult time. This will be our only comment on this private, family matter. Thank you for understanding.
Imagine having to release a statement every time you broke up with someone? Being in the public eye is ridiculous.
The exes seem to be winning at the co-parenting game. The two were living together, and even vacationing together, with their children Violet, 11, Seraphina, 8, and Samuel, almost 5.
Earlier this month, Affleck completed rehab for alcohol addiction and Garner supported him through his recovery. The source said,
They are co-parenting the best they can. Whatever incarnation of a relationship this is works for them. Ben is spending special time with all the kids separately. He seems very happy. The mood in general seems very upbeat. The kids are thrilled that he is back.
Citations: Ben Affleck and Jennifer Garner Officially File for Divorce (People)