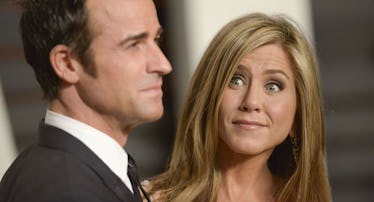 No, Jennifer Aniston Isn't Divorcing Justin Theroux Over The Brangelina Split
REX/Shutterstock
Everyone stop waving your divorce wands recklessly around the room right this very moment.
Stop it.
Stop.
The magic died for Brangelina, but that doesn't mean we have to come for Jennifer Aniston and Justin Theroux.
The couple, who married in August 2015, are not parting ways, contrary to rumors online and a headline from In Touch Weekly.
Jen's reps called the magazine's claims she ended it with Justin due to his communication with ex Heidi Bivens a "complete fabrication," in a statement to DailyMail.com.
According to the inciting In Touch story, a source claimed Justin and Heidi "stayed in contact ever since they broke up," adding,
Jen hates it. She let him have it, saying it was the last time she ever wanted to hear about that woman… Justin and Heidi are friends, and that's not going to change.
Heidi and Justin dated for 14 years before "The Leftovers" star began seeing Jen.
InTouch's source said Justin's sustained friendship with Heidi has long been a sore spot for the "Friends" actress.
The source shared,
Jen lives in constant fear that Justin is going to run off with another woman and leave her heartbroken like Brad did.
Fans are not buying into the split rumors and agree Jen should be left out of the current Brangelina narrative.
Tabloids using Brad and Angelina's divorce as a chance to make up more bullshit that Jen and Justin are also getting divorced — Loveucourteney (@LoveUCourteney) September 21, 2016
There's enough drama between Brad Pitt and Angelina Jolie to feed our dark, empty souls for an eternity.
Enjoy life with your gorgeous husband, your luscious hair and your mountain of Smartwater money, Jennifer Aniston. This is not your battle to fight.
Citations: Jennifer Aniston's Team Denies Split With Justin Theroux (Refinery29)