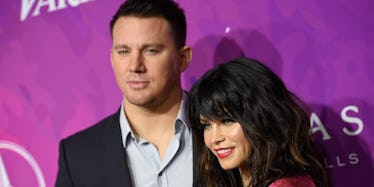 Jenna Dewan Tatum Reveals How A Second Baby Would Affect Sex With Channing Tatum
REX/Shutterstock
When you're married to someone who looks like Channing Tatum or Jenna Dewan Tatum, you probably never want to leave the bedroom.
Jenna recently opened up about the steamy couple's sex life and how their bedroom acrobatics might change in the future if they decide to have more kids.
Jenna revealed to Redbook that even after more than 10 years together, she and Channing Tatum are as spontaneous as ever when it comes to sex.
She said although they're obviously both very busy nowadays, they keep their spark by not scheduling sex and letting their anticipation build whenever they're apart.
But that could all change with another baby. She told the mag,
We are not sex schedulers – not yet! Give us a couple more years. Maybe with child number two. There's a beauty in being two busy people because we get a lot of time to miss each other. To continue to miss someone after so many years is kind of a blessing in disguise.
Jenna and Channing Tatum already have one child together — their daughter Everly turns 4 next month — and the couple have made it clear they want more kids.
A couple years back, Jenna told E! News she and Channing "definitely" want a baby brother or sister for Everly.
And although Jenna said she thinks a second baby might slow down her sex life with Channing, I find it hard to believe the heat between the two is going to die down anytime soon.
Remember when Channing posted that scandalous naked photo of Jenna in bed a few months ago...
Jenna went on to detail just how she and Channing keep their relationship so exciting. She stressed the importance of sexing things up not for her man, but for herself, saying,
I do things to keep it fresh for myself. The lingerie I buy is not for him necessarily. It's for us and for myself. If you feel sexy, then it's good for you.
Now that sounds like a really healthy attitude. We'll just have to wait and see when all the bedroom fun leads to baby number two for Jenna and Channing!
Citations: Jenna Dewan Tatum: It's Okay to Make "Waves" In Your Relationship (Redbook)