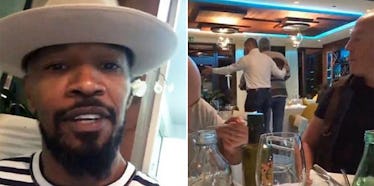 Jamie Foxx Films Moment Men Targeted Him With Racial Slurs In Restaurant
Instagram
Actor Jamie Foxx had been dining at a restaurant in the Eastern European country of Croatia when two men allegedly hurled racial slurs at him.
Foxx, who has been in Dubrovnik filming "Robin Hood: Origins," took to Instagram to share a video of the men being escorted out of the restaurant as he described them to be "drunk."
So, what exactly did the racist thugs say, you ask?
Total Croatia News reports the men used the derogatory term "crncuga," which means the N-word in Croatian. After verbally abusing both Jamie Foxx and the restaurant staff, the police were alerted at around 10 pm.
Restaurant staff worked to remove the men from the restaurant just before law enforcement responded swiftly by arresting the 44-year-old and 50-year-old.
While the racist "drunk" diners are currently being investigated, the report states the men will likely be charged with disturbing the peace.
Here's the moment Jamie Foxx was targetted with racial slurs while dining at a restaurant in Croatia.
Jamie Foxx originally uploaded a couple of videos to his Instagram account during the incident, but has since deleted the posts.
It can be tough to let people get away with blatantly disrespecting you for no reason, but I think Foxx deserves major respect for keeping calm and letting karma work its magic!
Why don't you give yourself a round of applause, Mr. Foxx?
This isn't the first time this year Jamie Foxx has been involved in restaurant chaos. According to TMZ, the 49-year-old actor had recently been dining at popular Los Angeles hotspot Catch when he was violently attacked.
Foxx had been chatting with a group of associates when a man confronted the group for being "too loud." That's when things got heated and the attacker said, "You don't want to mess with me. I'm from New York."
Someone at Foxx's table allegedly fired back, saying, "Fuck you. I'm from Oakland." It was at that point the man "lunged" at the actor, forcing Foxx to secure him in a chokehold and take him down.
Look, I don't know what fellow diners have against Jamie Foxx, but someone needs to get Chris Crocker on the phone so we can cue up this #LeaveJamieAlone campaign.
Citations: Jamie Foxx films the moment two men hurl the N-word at him in shocking racist attack in Croatian restaurant (DailyMail.com)