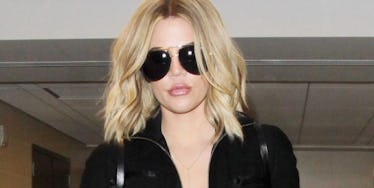 James Harden Says He Wasn't 'Getting Anything Out Of' Dating Khloé Kardashian
REX/Shutterstock
At the moment, Khloé Kardashian appears very happy dating Cleveland Cavaliers big man Tristan Thompson.
I mean, just look at how these two spent this past Valentine's Day together.
Yeah.
Khloé dished about her special Valentine's Day with Tristan when she joined "The Ellen DeGeneres Show" recently.
She said,
I am going to be in Cleveland with Tristan. He actually has a game on Valentine's Day, so I will be with him after the game. I'll probably cook dinner, have food waiting for him when he comes home… maybe look a little sexy.
Before Khloé Kardashian dated Tristan Thompson, though, she dated a different NBA baller.
Sorry, Lamar Odom, but I'm talking about Houston Rockets guard James Harden.
Yup, I don't know if you remember, but these two definitely dated a while back.
Recently, in a longform interview with Sports Illustrated's Lee Jenkins, the 27-year-old Harden appeared to dish on why his relationship with Khloé Kardashian didn't work out.
Speaking with Jenkins, James Harden said,
I'm not worried about anything but hooping, and that may be why I'm having this kind of success. I didn't like all the attention. I feel like it was for no reason. I wasn't getting anything out of it except my name out there and my face out there, and I don't need that. It wasn't uncomfortable, but it wasn't me. I don't need pictures of myself when I'm driving my car. Who cares? What shoes am I wearing? Who cares? Where am I eating? Who cares? It was unnecessary stuff that I think trickled down to my teammates. I had to eliminate that.
Whoa!
So, it sounds a lot like Harden is saying he's now finding success on the court because he ditched Khloé Kardashian, and the media circus that follows her, off of it.
I mean, Harden is averaging 28.8 points per game at the moment and has started all of the Rockets' 61 games this season.
Harden's also averaging a career high in assists per game, 11.3, and the Rockets are the third best team in the Western Conference.
Care to respond, Khloé?
Citations: James Harden Explains How Breaking Up With Khloe Kardashian Helped Him Get His Basketball Career Back On Track (BroBible)