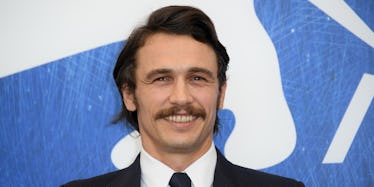 James Franco Accused Of Savagely Headbutting A Guy In A Cemetery
REX/Shutterstock
Anytime I read a headline like this, I say to myself, "No effing way could this have actually happened."
That is unless, of course, James Franco is somehow involved.
I will believe any nutty factoid that comes to light about James Franco because I truly believe he is low-key cray. Like, I 100 percent believe this dude...
...headbutted another person while in a cemetery.
Variety reports that a lawsuit filed by Los Angeles photographer David Tonnessen claims the actor allegedly headbutted him at a Lana Del Rey concert, which took place at the Hollywood Forever Cemetery.
Hollywood Forever Cemetery is both a real cemetery, a concert location and a place where you can watch outdoor movie screenings AMONG THE DEAD.
Tonnessen says he was taking photos of the concert when he heard someone behind him, and it wasn't a ghost. It was... Franco.
According to court documents obtained by Variety, James not only flashed Tonnessen a grin "rather demonically" he charged at the photographer with "blank expression of joy on his face" and headbutted him.
After allegedly headbutting Tonnessen, James reportedly ran back into the crowd.
I'm sure it was awful for Tonnessen, if true, but the fact that court documents state the actor smiled "rather demonically" and had an expression of pure glee as he charged like a bull at this man is comedy gold, friends.
Tonnessen claims he was hospitalized after the headbutt, and that he suffers from permanent physical and emotional damage. He is suing for monetary and punitive damages.
The photographer was reportedly arrested in 2008 while LA tried to keep paparazzi from blocking sidewalks outside of the medical center where they waited to snap shots of Britney Spears and Lindsay Lohan.
So that's the type of dude we're dealing with... Maybe Franco had good reason to allegedly headbutt him?
Citations: James Franco Sued for Allegedly Head-Butting Photographer (Variety)