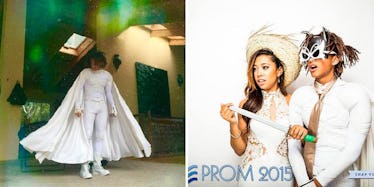 Jaden Smith Went To Prom Dressed As Batman Because Of Course He Did (Photos)
Jaden Smith -- the blessed son of our Lord and Savior, the Fresh Prince (who styled for our sins) -- has been in the public eye since the ancient prophecy finally came true and he came to this earth, born in a manager.
In his short time gracing this planet, Jaden Smith (may his glory shine for a million centuries) has shown us many things, like how to be friends with Jackie Chan.
Soon enough, Jaden will have to fulfill the prophecy as THE CHOSEN ONE and banish all evil nerds from this world with the legendary power of weird, confusing tweets, but until then, he has a regular life to live.
In fact, Jaden went to prom recently. And, in line with the prophecy, he went dressed as Batman.
Here he is, mask and all.
He also wore a tie because it was a formal event.
Oh, you'd like a better look at the whole costume? That's so funny, 'cause I actually I have a picture that shows it a bit better.
As it turns out, he wears this costume a lot.
Here he is wearing it while standing next to that guy who makes those movies you think are about one thing but then turn out to be about something else.
Don't worry, though; he wore a blazer before arriving. He had to maintain his modesty.
If you think you recognize this, it's because he wore the full costume to Kim and Kanye's wedding last year.
Citations: Jaden Smith Had The Best Time Ever As Batman At The Prom (BuzzFeed)