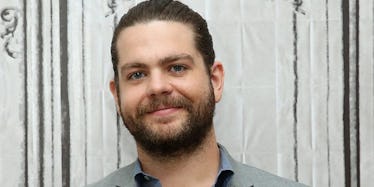 Jack Osbourne Opens Up About MS Diagnosis: "I Don't Waste Time Anymore" – EXCLUSIVE
Monica Schipper/Getty Images
You all may know Jack Osbourne as the famous son of Ozzy and Sharon Osbourne, but Jack is so much more than his family name. Five years ago, Osbourne was diagnosed with multiple sclerosis and he's been making life changes ever since. Jack Osbourne's MS diagnosis may have presented challenges to the TV personality, but that's not stopping him from making a difference in a big way... and no, it's not with another nonprofit.
You Don't Know Jack About MS is a campaign started by Osbourne and Teva Neuroscience, a website that provides insight for those who are living with multiple sclerosis. He also stars in a web series on the site that offers a look into his life and any advice he can give, although he doesn't really believe in giving advice.
I had the chance to speak to Jack Osbourne about his campaign You Don't Know Jack About MS, his MS diagnosis, and how he's taking life by the horns and not letting go.
Osbourne started off by explaining why he doesn't want to just start another non-profit. He explains,
It's a very common thing when people in entertainment get diagnosed with a disease they instantly start a non-profit, but I realized by starting a non-profit I'm years behind people that are already really experts at doing that. For me what was really missing when I got diagnosed was a one-stop shop to educate myself on MS.
Jack's campaign has been successful in reaching others with MS. He mentions,
I get messages constantly on social media of people asking questions, wanting to find out more information or ask me what my treatment plan is, so it's great. It's been nothing but positive.
On how his famous family has supported him, Jack adds,
It's been a journey of education for the entire family, really. They knew as little about MS as I did when I got diagnosed. There are also amazing treatments available that really do allow patients to maintain a really high-quality lifestyle – it's not what it was 30 years ago – and I think that provided a huge amount of relief for my parents and they've been hugely supportive. They're obviously massively paranoid. They overreact, but that's what parents do.
MS symptoms vary for each individual, including Jack. Osbourne notes,
The symptoms are as unique to the individual as their own fingerprint. There could be a guy out there who got diagnosed at the same age, the same month and have completely different symptoms than me.
Since Jack received his diagnosis, the Osbourne son has a new lease on life. He tells me,
It's forced me to be a lot more focused on what I want to do now. I don't waste time anymore. I don't have a crystal ball, so I don't know what tomorrow's going to bring. I try and really live every day to the fullest. I guess sometimes you've got to turn lemons into lemonade.
Although Jack Osbourne continues to ride the crazy train of life, it doesn't look like he'll be going off the rails anytime soon.
To learn more about MS and Jack's journey, visit Youdontknowjackaboutms.com